The new wave of Android flagships comes with a revamped version of Qualcomm's top chipset, but surprisingly it's the Nokia Lumia 1520 with the vanilla Snapdragon 800 that topped the charts of the Basemark X test.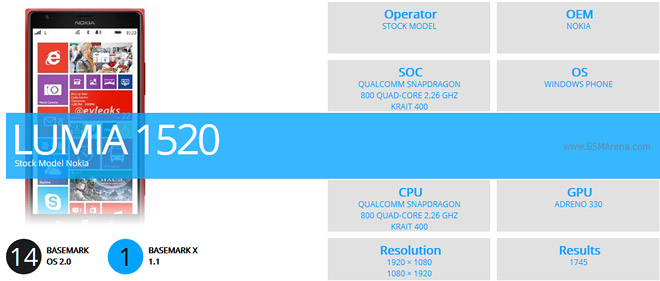 The Xperia Z2 hasn't been tested yet, but the Samsung Galaxy S5 comes in second with a 6% lower score.
From our own tests, the Xperia is an inch behind the Galaxy S5 in general benchmarks and closer in 3D tests. We can expect to see the same in Basemark X, which is a graphics test.
Note that the Snapdragon 801 used in the Galaxy and Xperia flagships has its Adreno 330 GPU clocked higher than the 800 chipset. In the Galaxy, the CPU is clocked higher too. This only leaves a software difference – Android 4.4 supports OpenGL ES 2.0, while Windows Phone uses Direct3D 9_3.
Note that the Nokia Lumia Icon uses the same chipset as the Lumia 1520 and has the same screen resolution, so we can expect the same feats from it. The rumored Lumia 930 is built on the same base too – Windows Phone has caught up and even overtaken Android in performance, at least according to Basemark X.