A lot of people were asking how the new Nokia Lumia 1020 stacks up against a DSLR. Unfortunately, the software on the 1020 isn't fully complete yet so Nokia doesn't allow samples to be published, so it's early for a proper comparison. But it doesn't hurt to take a peek – a quick comparison of photos on the device itself gives a preliminary answer.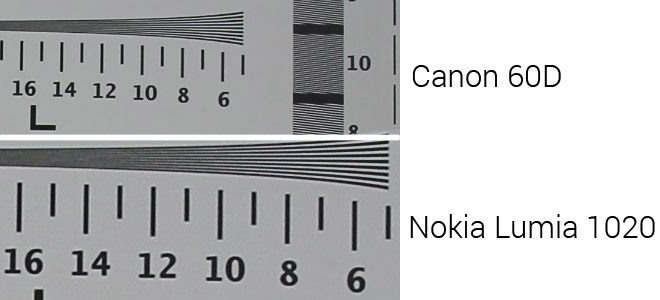 After the unveiling, Nokia had set up a small lab with resolution charts so MyNokiaBlog was able to do the comparison of Lumia 1020 against a Canon 60D.
Two photos were snapped from the same distance – one with the 1020 and one with the 60D. The resolution lines on the Lumia 1020 photo started to converge around the 16 mark, while the lines in 60D photos converge around 12-13.
These marks show the vertical resolution (divided by 100), so around 1,600 lines for the Lumia and 1,300 lines for the Canon. This is meant to measure resolved detail, which is different from the raw pixels due to noise and other considerations.
That shouldn't come as such a surprise – the Nokia Lumia 1020 packs a lot more pixels than the 60D (18MP APS-C sensor) and the black and white lines of the ISO chart are very easy to resolve (compared to a real-life scene).
Note that the Lumia 1020 image above is a screenshot from the video of the phone displaying the image – far from perfect, as you can imagine. Still, it's an interesting first taste, until Nokia finishes up tuning the software.
Here's how the test was done:
And one more test, showing how much of a PowerPoint-looking presentation the Nokia Lumia 1020 can capture from a distance.
You can learn more about the Nokia Lumia 1020 and its camera in our preview.