The Nokia Lumia 1020 will be featured in a lot of head to head battles and today it's time to tackle the Samsung Galaxy S4 zoom. The Lumia 1020 has its large, high resolution sensor (1/1.5″ 41MP) to rely on, while the S4 zoom boasts 10x zoom that's something you just don't see on a device with full phone capabilities.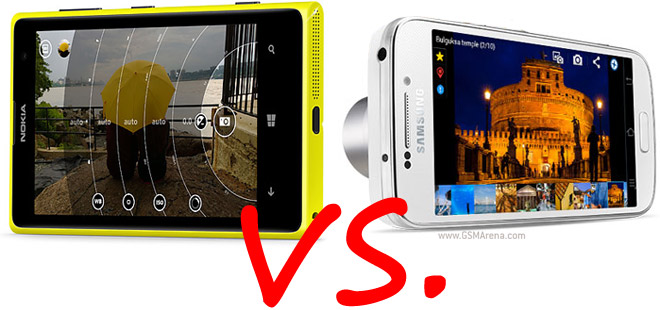 Those lead to different strengths, like much better bokeh effect from the Lumia 1020, while the S4 zoom is true to its name and wins hands down when it comes to zoom.
Unfortunately, the images are not full resolution, but you can still get a good idea of what the image quality is like.
There are some other obvious differences like image processing. The Nokia Lumia 1020 would often oversaturate the image slightly (this is by design), but the Samsung Galaxy S4 zoom didn't always hit the mark either. It's the green color channel that's the culprit – both devices were hit or miss when shooting greenery.
The Lumia 1020 offers images with higher contrast, especially in low light shots. Speaking of low light shots, the 1020 does do better but it got the white balance wrong on occasion.
There are more things – the Nokia has zooming capabilities (3x for 5MP stills, 4x for 1080p video) but it doesn't come close to the 10x zoom for the Galaxy S4 zoom at full resolution as the video shows. The Lumia 1020 seems to have an edge when it comes to optical image stabilization, though.
Check out the video for more details on the hardware (the screen, the pocketability, the build quality) and more: