Last week Nokia Conversations asked its users what accessories they would like to have for their Nokia N8. Now the final results are out – phone jewelry lost, but what came out on top? Not what I voted for.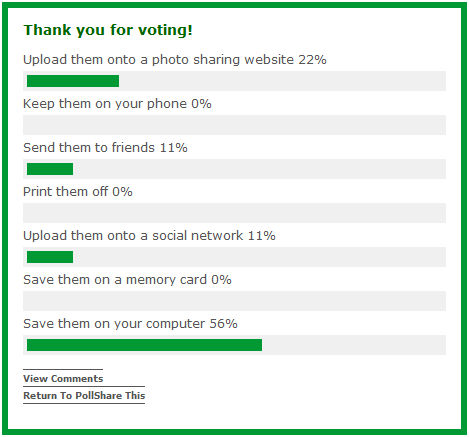 Anyway, now that that's done, a new poll asks what people do with the photos from their phones…
But first, here's the top three accessories for the Nokia N8 – the protective case leads, a microSD card comes in a close second and wireless headphones slip into third place. My accessory of choice, car kit, came out forth ahead of the add-on battery. Unpopular options turned out to be the jewelry (unsurprising) but also tripods and stands.
The "Other" field led to some interesting suggestions – a keyboard and a mouse (which the Nokia N8 does support), even a bicycle charger.
Here's the new poll – what do you do with photos taken with your phone? Upload them to some Internet site (photo sharing site, social networking site, etc.), print them, stow them away on a memory card or just store then on your computer?
The results currently sit at 56% for the "store on the computer" option. It's not too late to cast your vote over at Nokia Conversations and tip the scales.