The latest Nokia product for Windows Phone to lose the Nokia branding is the app formerly known as Nokia Conference. From now on, it will live on as Join Conference. The name change has been made official through its latest update, which is now up for grabs in the Windows Phone app store.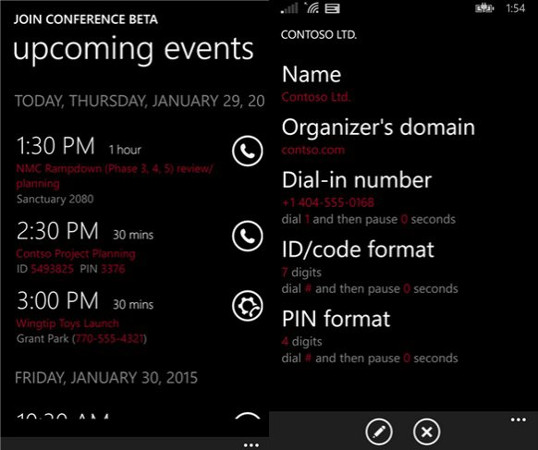 The new name isn't the only change, however. Join Conference has received support for Cortana, which means you can now simply say "join conference" and Cortana will do its magic for you.
Cortana will automatically figure out which conference is currently ongoing or about to start, speak it back to you for confirmation, then connect you. As you may have guessed, Join Conference is all about making it easy to dial into conference calls. The app promises that if you use it you'll no longer need to switch to the Calendar app, remember ID/PIN codes, get the right access number, switch to the phone app, make the call, and then enter all those codes. Instead you either tap one button or use Cortana as described above.
Join Conference is still in Beta, yet according to Microsoft it should work with all conference systems, since the settings for many companies' setups are stored on on its servers and recognized automatically. If you use a system that isn't recognized, you can define its settings yourself, after which you can share them with Microsoft so your coworkers won't have to manually add them too.