A while back, Nokia Beta Labs released the Ovi Browser beta – a Java-based web browser for S40 phones that walked and quacked like Opera Mini 4.2. Users of the beta seem to have provided good feedback, because now Beta Labs announced an update for the app with new features and fixes.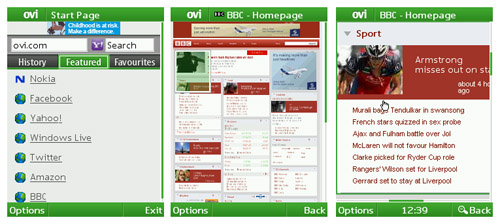 It's one odd update though. Like Opera Mini, the Ovi Browser uses a dedicated server that compresses the page before sending it to the phone. And that's where all the updates happened – on the server, you don't need to update the app to get the updated experience.
Here's what they changed:
Improved rendering quality
Performance improvements
Added support for 4 new devices – Nokia 7310, X2, 5300, 6280, 3710
Two new regional start pages for India and Indonesia
Improved Vietnamese character issues
I wonder how they added support for new phones without updating the app. Anyway, the update I was looking for – support for tabs – isn't here. Other things like find on page and saving pages aren't in the update either.
Nokia typically pre-installs Opera Mini on most of their S40 phones (on some phones it's even the default browser). Ovi Browser will probably take over that duty when it comes out of beta. But it still has a lot of catching up to do if it will compete with Opera Mini 5.
You can get Ovi Browser by going to browser.ovi.com on your phone or from here.