You don't usually see a two-year old smartphone get a firmware update – let alone one that adds any major features. Well, Nokia just can't stop showing their love for their first-born touch phone – the 5800 XpressMusic. The touch-driven Symbian S60 5th edition pioneer is one of the handsets that provides great value for its price in the market segment and Nokia are obviously keen to keep it that way.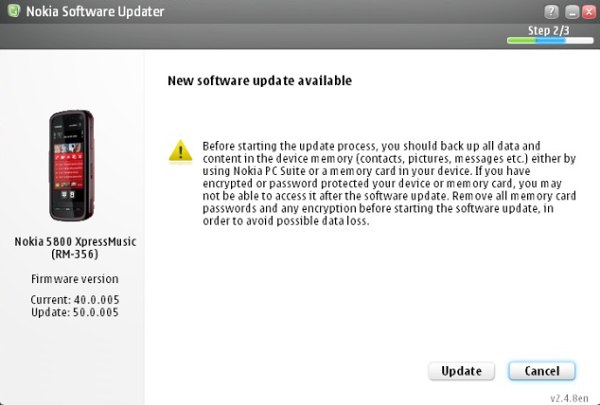 The latest 50.0.005 firmware for one of the most popular phone of all times in our database brings several new features and applications, bug-fixes and some key tweaks that noticeably improve the user experience.
The new features include new versions of the built-in web browser (in case you haven't switched to Opera already) and of Flash Lite. QuickOffice has also been updated along with some of the OVI services (OVI store, OVI contacts and OVI sync) and OVI music is now preinstalled. The last key application that got updated is the music player (this is an XpressMusic handset after all).
The user interface update includes several tweaks and performance updates but above all kinetic scrolling in icon grid menus (as opposed to list menus). The scrolling of those grid menus used to be largely inconsistent with the rest of the interface navigation so I'm glad they finally sorted that out.
Feel free to share how the update is working for you in the comments section below.