Nokia made the most headlines with the Android-powered X line of devices (X, X+ and XL) but did push the boundaries of affordability with the Nokia 220 and Asha 230. Both feature dual-SIM versions as well.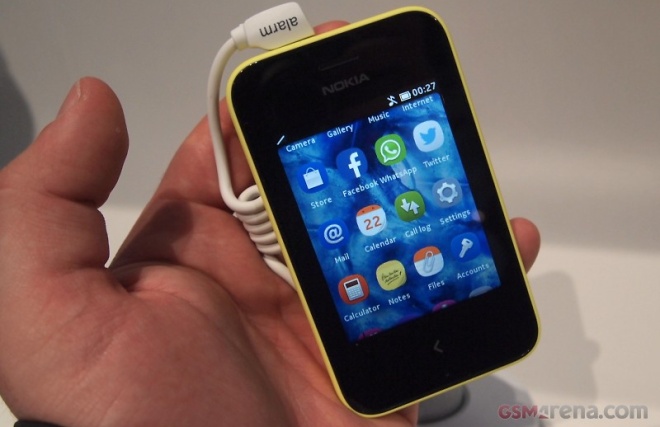 We got to spend some quality time with the 220 and Asha 230. The 220 starts at an insanely-low €29 while the Asha 230 starts at €45. Both devices we handled at the Mobile World Congress were yellow in color. Jump after the break for the impressions and images.
Nokia Asha 230
The Asha 230 is a full-touch operated device – even the back button is capacitive. There are physical unlock and volume keys too. It has a 2.8″ of the same QVGA (320 x 240) resolution and clocks in at 142 pixels per inch. The Asha 230 includes Nokia's Glance screen tech, a slap in the face of the Lumia 520, which lacks it. The Nokia 220 has a 2 MP camera on the back.
The plastics used in the Asha 230 feel even lesser in quality compared to the Nokia 220. The Asha 230 is heftier at 89.3 g.
The screen looks okay at these parameters. Asha's UI operation is a little stuttery probably due to the lower-end specs.
The Asha 230 comes with a 1020 mAh battery that's good for 33 days of stand by time according to Nokia. Talk time over 2G is rated at 11 hours. To complete the tally there's a 1.3 MP camera on board.
Nokia Asha 220
The Nokia 220 is a non-touch device which focuses on the bare essentials in order to accommodate the €29 price tag. The 220 comes with only 2G connectivity, skipping even Wi-Fi along the way. It does, however, feature preinstalled Twitter and Facebook. The plastic used in the 220 isn't the best but feels okay to the touch.
At this price point we can't really expect miracles, the phone is very thick at 13.2 mm for starters. The UI is fluid enough and the buttons are good and those not enamored with touch-operation will love the full numpad. The 2.4″ QVGA LCD offers an unimpressive 166 ppi but has good colors. The 220 weighs a manageable 83.6 g.
The Nokia 220 is available starting today while the Asha 230 will hit the first wave of shelves in March.