The Nexus 9 has been put up for pre-order on the Play Store in India. India is one of the 22 markets worldwide that will be getting the Nexus 9 on day one.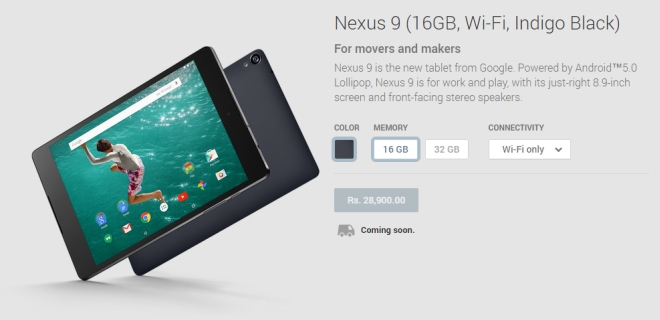 The Nexus 9 is available in two configurations in India. There is the base 16GB version with Wi-Fi, that is priced at Rs. 28,900, and there is the 32GB LTE model that is priced at Rs. 44,900. The Nexus 9 is only available in the Indigo Black color in India for now.
There is a rather steep price difference between the two models, considering the latter has both, higher storage as well as LTE. Unfortunately, there are no options available for those who might want a 16GB LTE or a 32GB Wi-Fi only model. Not to mention there are no higher capacity models available beyond 32GB. The lack of colors beyond black are also perplexing, although the others could be added later.
Along with the tablet, Google will also be selling the Nexus 9 cover on the Play Store. It is available in Black, Limestone, and Mint Indigo. The cover is priced at Rs. 2,900.