The Acer Aspire S7 series ultrabooks are set to hit shelves on October 26.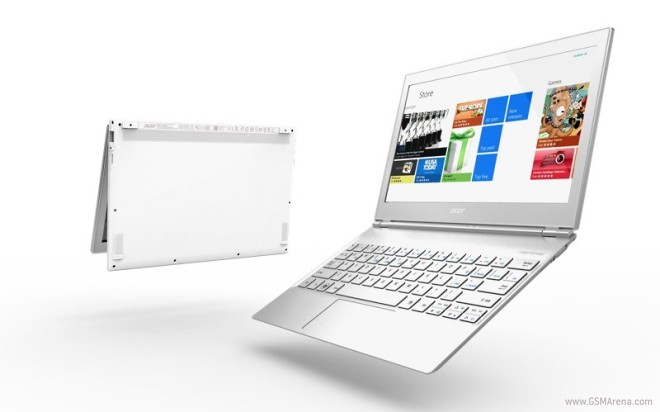 All members of the new series contain Intel Ivy Bridge processors, and start at $1,200 for the 11 inch model.
The most notable feature, however, is the touchscreen capability, which takes advantage of the new touch interface on Microsoft's Windows 8 operating system.
The 11 inch model also has the ability to fold over to a completely flat display, and comes with an aluminum lid rather than one covered with Gorilla Glass like its 13 inch siblings.
All models come with 4GB of RAM, SSD drives configured in RAID 0 arrays for ultrafast read/write speeds, and integrated Intel HD 4000 graphics.
The full specs lists for the new ultrabooks are as follows:
Aspire S7-191-6640 ($1,200)
11.6-inch, 1080p IPS display
Intel Core i5-3317UB CPU
128GB SSD
4GB of DDR3 RAM
2.29 pounds
11.17 x 7.7 x 0.48 inches
Aspire S7-391-6810 ($1,400)
13.3-inch, 1080p IPS display
Intel Core i5-3317UB CPU
128GB SSD
4GB of DDR3 RAM
2.86 pounds
12.73 x 8.79 x 0.47 inches
Aspire S7-391-9886 ($1,650)
13.3-inch, 1080p IPS display
Intel Core i7-3517UB CPU
256GB SSD
4GB of DDR3 RAM
2.86 pounds
12.73 x 8.79 x 0.47 inches