Google has released another update to the recently updated Google Play Store app on Android, which takes the version number to 3.5.15. Among the list of changes is the ability to sort user reviews and view all your previously downloaded apps, both of which were available on the Play Store website for a while now.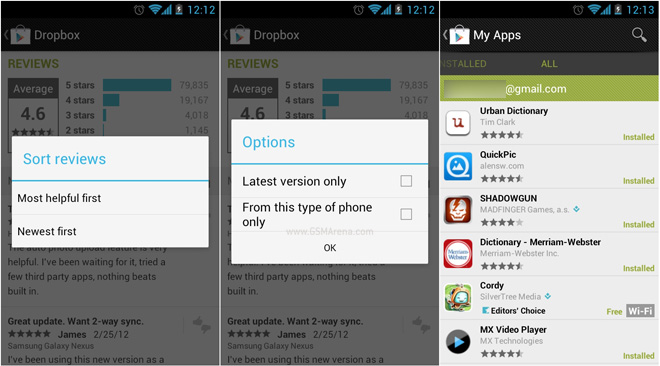 The review sorting feature lets you sort user reviews for an app by the most helpful first or newest first. You can now also choose to view reviews for the latest version of the app and also reviews for just the handset that you use. This will be incredibly useful in separating all the useless reviews from the ones that actually matter to you and your device.
Next, Google has changed the My Apps view by separating it into two columns. The 'Installed' column shows you all the apps that are currently installed on your device and any new updates will show up here. Swipe left and you will find the new 'All' column, which will show you every app you ever downloaded on any Android device using your Google account. The account name is shown on top and all the downloaded apps below. This will make it very easy to set up a new device because now you wouldn't have to hunt for the apps that you previously used or go to the Play Store website.
The update has started rolling out in certain regions and should reach your device soon, if it hasn't already. If you can't wait then Droid-Life has the apk file for you to download and manually upgrade.