The initial batches of Nexus 9 tablets manufactured by HTC apparently suffer from having hardware power and volume buttons which are hard to press, and have almost no travel. Additionally, the tablet's screen has been found to suffer from pretty extensive light bleed.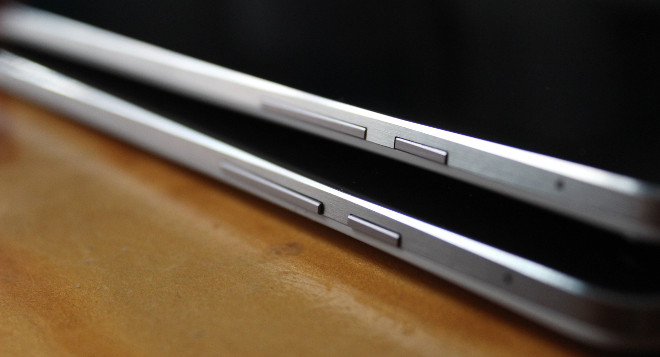 It looks like HTC was made aware of these issues, and has already fixed them in the newest batches of Nexus 9s being sent to buyers.
A Reddit user has noticed that on a Nexus 9 which was produced last week and arrived at its new owner on Wednesday, the buttons stick out from the case by a lot more than they did for earlier batches. In the picture above, you can see the new and improved button design on the bottom, compared to the old, more 'squishy' buttons that the tablet on the top has. Furthermore, the new buttons are said to be much easier to press than the old ones.
Additionally, there's a lot less light bleed coming from the screen with the latest Nexus 9 tablets, although the issue is still present. And finally, the flexing of the back panel seems to be gone now too. This was another niggle that presented itself with the first Nexus 9 units.
So if you wanted to buy the latest Nexus tablet but have so far been put off by these problems, you can now take the plunge knowing that they seem to have been fixed.