This year's CES saw the announcement of the new Samsung Series 9 ultrabook. Its slim aluminum body houses specially designed components that make it one of the thinnest and lightest portable computers around.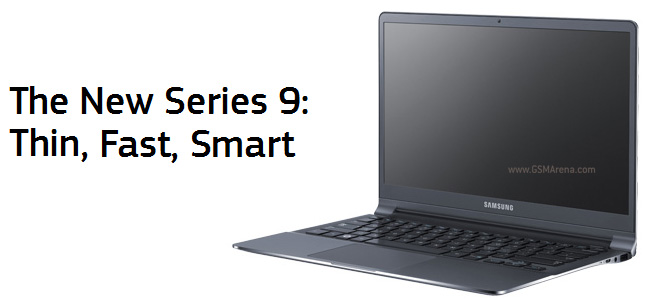 It will be available in 13.3″ and 15″ versions, but Samsung claims that it is so compact that the 15″ version is the size of a typical 14″ laptop.
Speaking of the screens, they are brighter (going up to 400 nits) and pack better resolution (1600×900) than the first generation Series 9. It's a matte display too, which is great for outdoor visibility.
The 13.3″ Series 9 is just 12.9mm thick, slightly thicker than the first gen version, but it's lighter – amazingly light, actually, at just 1.16kg. The 15″ version is 14.9mm thick and weighs the unbelievable 1.59kg.
The ultrabooks will launch with a Intel Core i5-2467M processor at first (1.6GHz, 2.3GHz with Turbo, 3MB L3 cache), but Samsung didn't say anything about future options. Storage will be handled by a 128GB SSD and there will be USB 3.0 and a card reader if you need to attach external memory. Also, the keyboard is backlit (if you are the kind of person to care about that).
Samsung boasts that their Fast Solutions technology offers boot times under 10 seconds and wake times of just 1.4 seconds. They also say their battery will retain 80% of its capacity even after 1500 charge cycles.
Heard enough? Well, starting February 27 you'll be able to snatch a Samsung Series 9 ultrabook for $1,400 if you want the 13.3″ one or $1,500 for the 15″ one.