I bet every tablet-loving gadget fan has been anticipating this one from day one. Well, most of you, anyway. Ever since the first "What's your tab life?" teaser hit the web, we have been waiting to see what this new Samsung tablet is all about.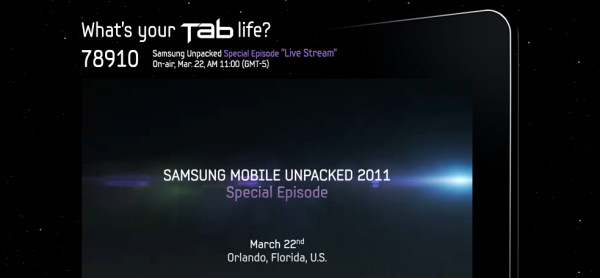 Well now that we are only a few hours away from its official announcement we can confirm most of its key specs. Now the 8.9″ display is an obvious one for the Galaxy Tab, but the really great WXGA resolution (that's 1280×800 pixels, in case you are wondering) comes as a nice bonus. This's 30% more pixels than the iPad 2 has and the same as its bigger brother – Galaxy Tab 10.1.
Also the Galaxy Tab 8.9" will have a dual-core 1GHz processor of either Exynos or Tegra origins. Samsung promise it will have "PC-like performance".
The new tab will be running on the Android 3.0 Honeycomb, but apparently will also have some home-baked UI customizations. Now this will be a first. It will feature the Live Panels the Galaxy S II offers and a Mini Apps tray that should improve user-experience for multi-taskers.
Finally, and probably most excitingly, the Galaxy Tab 8.9" will be very thin and considerably light. Its profile will be just 8.6mm and its weight only 470 grams.