Yet another Samsung Galaxy S II Android 4.0 ICS ROM escaped the Samsung R&D center and walked right into the hand of indie developers and smartphone enthusiasts. Carrying the version number I9100XXLPH, the new ROM has a build date of February 9 and, as you can expect, it is the most stable and functional ICS ROM for the Galaxy S II to date.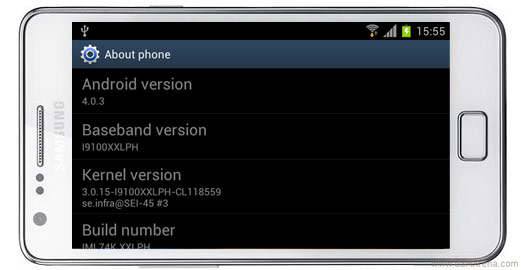 The LPH release is only a short step away from feeling like a polished final ROM. It's smooth enough, it supports all of the phone's hardware and it gets rid of the nagging "set up update" notification from previous beta releases.
If you know your way around flashing a custom ROM, it's really hard not to recommend this one as your everyday driver. The few minor bugs remaining are easily made up for with the niceties brought by the Ice Cream Sandwich. The new browser alone is more than worth the trouble, and the overhauled recent apps manager is arguably the best of its kind.
To give you an idea of the overall processing power increase that the Galaxy S II gets from the ICS we ran a few benchmarks and compared it to the Gingerbread ROMs and the Galaxy Nexus results.
We started the tests with the CPU benchmark and ran Linpack. The ICS-running Galaxy S II scored lower than its Gingerbread-powered sibling, but that's probably due to the beta status of its ROM. The two should be on par, or close to being on par when everything is finalized.

GPU-testing followed and we saw the Android 4.0 Galaxy S II claim a victory here. The gain over the Gingerbread ROM isn't huge, but still noticeable. And don't be confused – the Mali-400MP GPU isn't two times more powerful than the PowerVR SGX540 inside the Galaxy Nexus – the difference is all down to the difference in resolutions.

Finally, we decided to test the browser and show you just how much it has improved. The new JavaScript engine helped the Galaxy S II improve its SunSpider score almost two times.

Things weren't much different on the BrowserMark benchmark – the Galaxy S II got the highest score we have seen so far.

In addition, the new browser offers improved battery life over the old one even on AMOLED screens. We'll try and repeat the Samsung Galaxy S II battery test in the following days and see how much it has improved.
If you feel like trying out the LPH ROM yourself, you can follow this link to find all the necessary files, along with simple installation instructions. Questions and comments should be directed to the comment section below this post.