The Samsung Galaxy Tab S2 has been popping up in the rumor mill quite frequently during the past few months. This is only natural, as the continuation of the company's famous Galaxy Tab S line was bound to see the light of day sooner or later.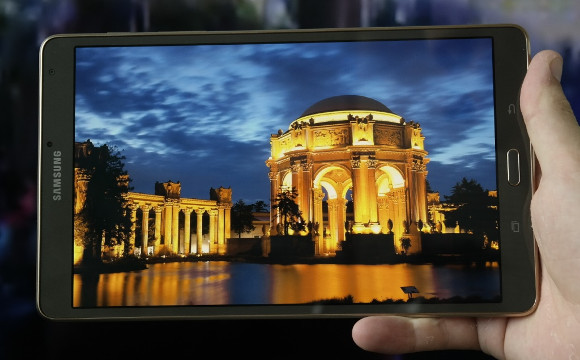 This being said, we do have some idea of what to expect from the upcoming device and one of the most prevailing rumors has been that the tablet will be thinner than an iPad Air 2. A new rumor, courtesy of OnLeaks might just prove that the Galaxy Tab S2 is exceptionally thin.
The exact measurements are allegedly – 237.17mm x 169.58mm x 5.5mm. This would not only make the device "razor thin", but would, effectively crown it the thinnest Samsung tablet to date. This might be the result of some late changes to the device's metal frame, but we can't really be sure. The tablet is also said to take design hints form the Galaxy S6, so a glass back is not out of the question.
The above information concerns the bigger 9.7-inch version of the tablet, but we expect that there will also be a smaller 8.0-inch one, which might not retain the exact same thin profile, due to lack of space.
We can be fairly confident that the new tablet will have a Super AMOLED screen, like the current model and thanks to a recent benchmark leak we also have a pretty good idea about the rest of the device's internals.
The alleged specs sheet includes a screen resolution of 2,048 x 1,536 pixels, just like recent iPads and the Nexus 9. It should be powered by one of Samsung's own Exynos chipsets, which has a big.LITTLE CPU configuration, with four Cortex-A57 cores and four Cortex-A53 ones. The maximum clock speed is 1.9 GHz. The GPU is a hexa-core Mali-T760MP6.
RAM and camera, however, seem to be directly borrowed from the current Galaxy Tab S. That is 3GB for RAM and a 7MP camera.