Samsung's upcoming line of slates is making the rumor rounds once again and this time we have a blurry image but one that has a running slate and its AMOLED-backed lockscreen showing.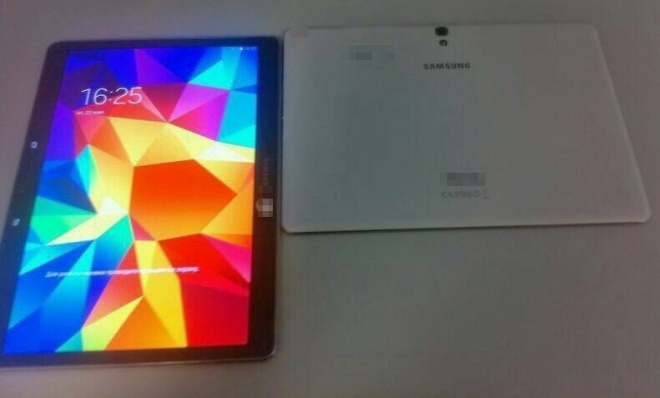 The image comes from one Sammobile forum member that goes by the name of J.K. Shin. Now where have we heard that name before. Anyway the image reportedly shows the 10.5″ Galaxy Tab S that will sport a AMOLED screen of a 2560 x 1600 resolution.
The leaked image doesn't show much else aside from the back and recent apps buttons flanking the home button. Rumor has it the latter will feature finger-scanning abilities. We've seen better pictures of the Galaxy Tab S 10.5″ (SM-T800) at the FCC.
The 10.5″ Galaxy Tab S aside Samsung will launch two others on June 12. One is an 8.4″ and the other a 13.3″ one. All of them will have WQHD screens and all but the biggest one will use AMOLED panels, the 13.3″ will be an LCD.
Early pricing rumors indicate the Samsung Galaxy Tab S 10.5 will retail for €563.90. The 8.4″ Galaxy Tab S is expected to run for €449.90 for the Wi-Fi-only version.
The Galaxy Tab S series are expected to flaunt an Exynos 5420 SoC with an octa-core processor comprised of four 1.9 GHz Cortex-A5s and four 1.3 GHz Cortex-A7. Cameras will likely be an 8 MP and 2.1 MP duo (back and front) while the Android version will be KitKat 4.4.2 with Samsung's Magazine UI.