Apple unveiled a number of new Mac products and top-notch productivity is the name of the game. There's the MacBook Pro for computing on the go and the Mac Pro for the absolute maximum in performance. It uses the latest Intel Xeon E5 chips with 4, 6, 8 or 12 cores.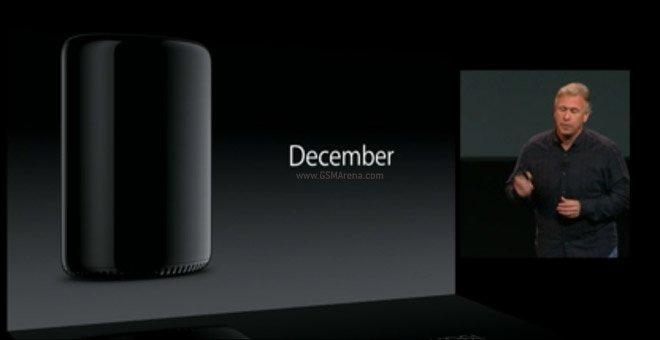 The increase in power comes with a decrease in power consumption, which in turn leads to less heat and fewer fans needed. The new Mac Pro has only one instead of the eight that the previous model used.
The specs of the beautiful desktop computer are stunning. The processor has 30MB cache and it's paired with up to 64GB 1866MHz DDR3 RAM with a four-channel controller for up to 60GB/s bandwidth. Better still, it's user accessible so you can easily upgrade it later on.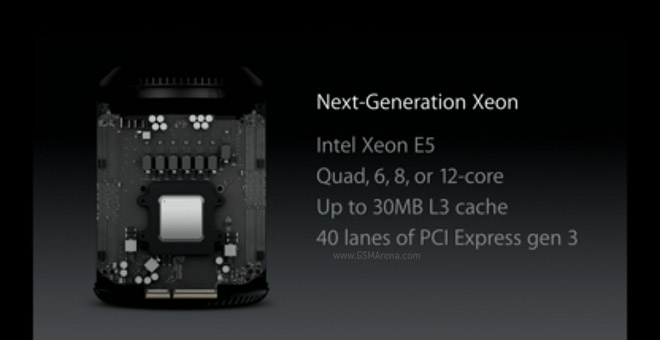 The GPU is impressive too – dual-workstation AMD FirePro with up to 4096 stream processor and 384-bit memory buses to up to 12GB of GDDR5 VRAM with 528GB/s bandwidth.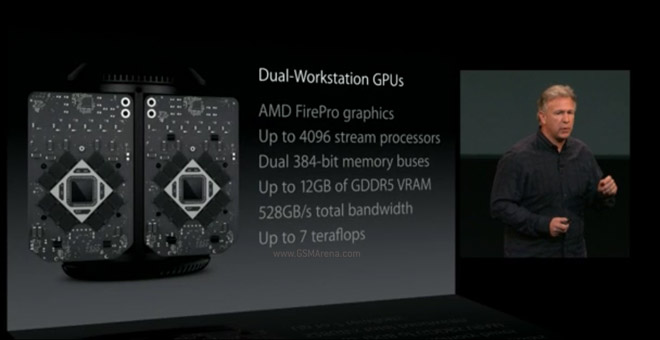 The Mac Pro comes with up to 1TB of SSD storage is connected over PCIe for 1.2GB/s reads and 1.0GB/s writes. Connectivity has been bumped up – you can hook up to three 4K displays (HDMI 1.4 support is on board), then there are six Thunderbolt 2 ports (20GB/s bandwidth, backwards compatible), 4x USB 3.0, two gigabit Ethernet ports and built-in Wi-Fi 802.11ac.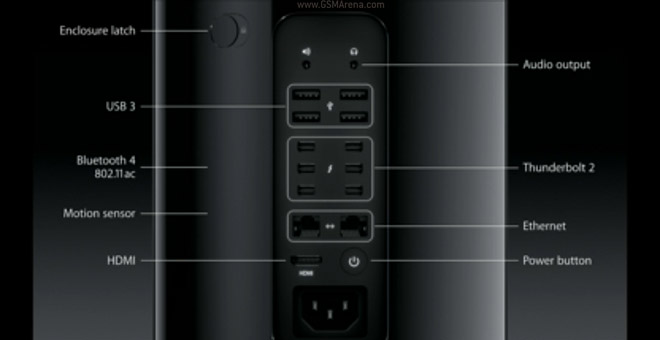 A relatively modest Mac Pro configuration – 3.7GHz quad-core Xeon, 12GB RAM, dual FirePro D300 GPU with 2GB each and a 256GB SSD can edit 4K video on the fly.
As I said, all this power uses less energy than before – 70% less. At idle, the Pro draws 43W and its single fan makes a meager 12dB noise.
That configuration will set you back $2999 and will be available in December and all units will be assembled in the US.