A rather interesting slide has surfaced today on Weibo, which seems to reveal ARM's future roadmap for processor core designs. From the looks of things, the company's lineup is in for a major overhaul, which is sure to affect the whole mobile industry, as ARM's Cortex designs are widely employed by most mobile chip makers.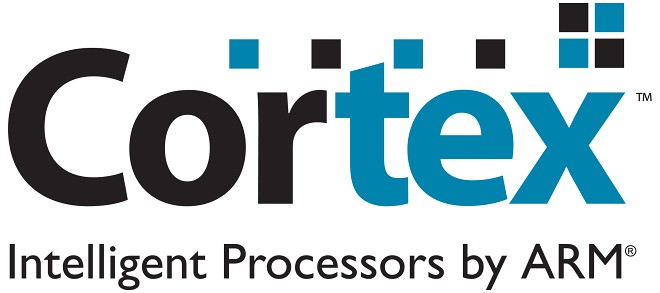 The graph suggests that there will be five new core designs, all bearing catchy Greek mythological names. But, besides an optimization for smaller production processes, like 16nm FitFET and 10nm, the new cores also fill the gap between the current Cortex-A57 and Cortex-A53 with a whole new tier of chips.
At the very top of the food chain, ARM will be introducing Ares cores. They will be replacing Cortex-A72 and, as such, are also intended for use in high-end server and embedded tech and large tablets. They are intended for usage with a 10nm manufacturing process and with a power envelope of 1-1.2W per core.
Right after that, we see another 10nm chip, codenamed Prometheus. It is intended to replace the current Cortex-A57 and will most-probably be powering top-of-the-line mobile chips for smartphones and tablets in the future. It is intended for a power envelop of 600-750mW.
But, the most-notable change in technology will occur in the mid-range, where a whole new tier will broaden choice for chip developers and manufacturers and consequently, end users. ARM currently offers two chips in this segment – the 32-bit Cortex-A17 and the extremely popular Cortex-A53. They will be replaced by three new processor designs.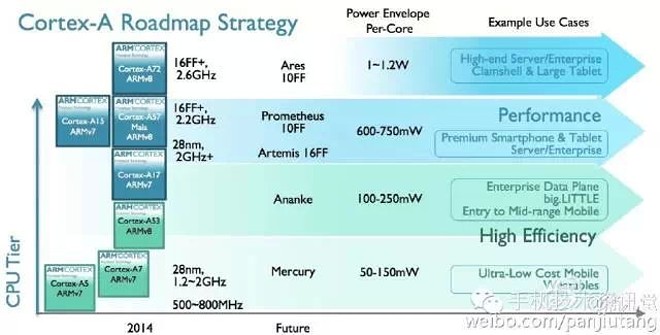 First up, there is Artemis, which, performance-wise, should fit somewhere between the current Cortex-A57 and the Cortex-A17. It will be designed to be used with a 16nm FitFET manufacturing process and should aim for a power envelope of 600-750mW.
Going further down the list, we find Ananke, which sits right below Artemis and should fill in for Cortex-A17 and Coretex-A53 in most use cases. As such, it will feature big.LITTLE support and will, most-likely, be the next most-widely spread midrange processor to power a huge range of mobile devices. It is still not clear what manufacturing process Ananke will be intended for, as the graphic lacks this information. Perhaps, the question is not entirely sorted out yet.
Last, but not least, there Is Mercury, which should replace some slower implementations of the Cortex-A53, as well as, the Coretex-A7 and Cortex-A5. Naturally, it is intended to power ultra-low-cost mobile devices and the new emerging segment of wearable tech. It is aimed for a power envelope of 50-150mW per core.