Things that you used to think were huge as a kid, seem so much smaller once you grow up, your staircase or your Dad's old car for example; but here's something that appears to have grown up with us.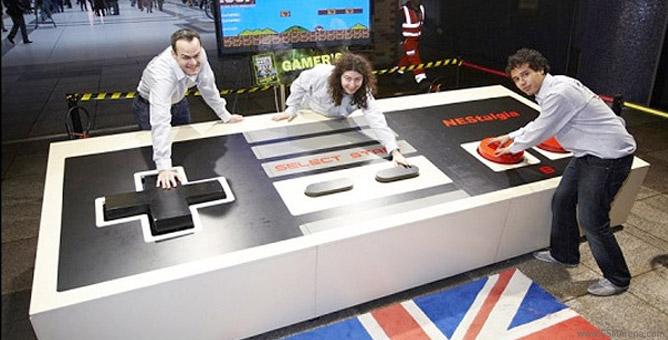 There's nothing like a super-sized NES controller to rekindle your childhood inner nerd.
The mammoth games controller seen here is the creation of British engineering student Ben Allen and he's wowed enough people to get it into the Guinness World Records 2012 Gamer's Edition.
The fully-functioning replica NES gamepad measures 366cm x 159cm x 51cm (12ft x 5ft 3in in x 1ft 8in) and weighs a whopping 265 pounds (18 stone). It cost £4000 (around $6000) to build over a course of five months. So what possessed Ben and his friends to breathe life into such a big idea in the first place?
"This is really a labor of love. We're passionate about gaming and wanted to honor its most iconic device; the NES (Nintendo Entertainment System) joypad." said Mr Allen. "We put our heads together in the pub and decided to create this absurdly large working version. It's such a rush to know we've made history and are being included in the Guinness World Records Gamer's Edition."
The coolest thing about this particular piece of record breaking gaming history? You can play with it. Not only is the controller fully functional but it is on show at Liverpool Street Station in London now for photo opportunities and if you're lucky enough, a quick game of Super Mario Brothers, but bring a friend, the controller is so wide that it takes at least two retro gamers to navigate it.
Check out the via link for a video featuring some other record holders to appear in the Guinness World Records 2012 Gamer's Edition.
What would you say is the best retro-console? Leave your suggestions in the comments below.