Here's something from the "curious, but is it useful?" category – MSI have released an Android version of their Afterburner utility. Afterburner allows users to overclock the MSI graphics cards on their computers.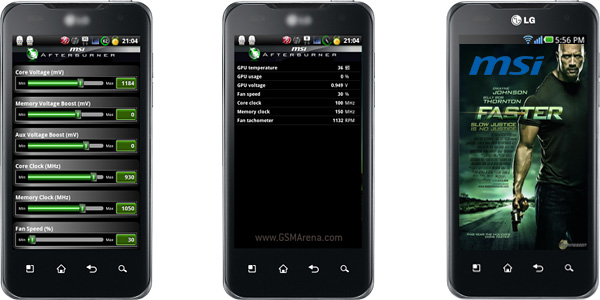 So, with this new app you can do it remotely from your droid phone or tablet.
Afterburner lets you fiddle with several settings of the graphics card – core and memory clock speed, core and memory voltage and fan speed. You can also use the tool to monitor the GPU temperature. Just so we're clear, we're talking about overclocking your computer graphics card from your phone.
I'm not sure about the usability of overclocking functionality, but it does sound like a useful feature to monitor your GPU state while playing a heavy game. You can connect Afterburner even remotely over the Internet – to check on your GPU in case you've left Folding@home running while you're away MSI says.
If you're near Nangang Exhibition Hall at Computex 2011 you can check out Afterburner for Android live and if not – you can watch this video.
ASUS have a similar app that overclocks both the CPU and the GPU – the app is available for Android, iOS, Symbian and Windows Mobile. It connects over Bluetooth in a complicated matter.