You'd think after a major launch such as the Firefox 4, the guys at Mozilla must be taking a break, but you'd be wrong. Mozilla recently introduced the Forefox Aurora development channel to support more frequent updates and today they released a spanking new beta of the upcoming Firefox 5.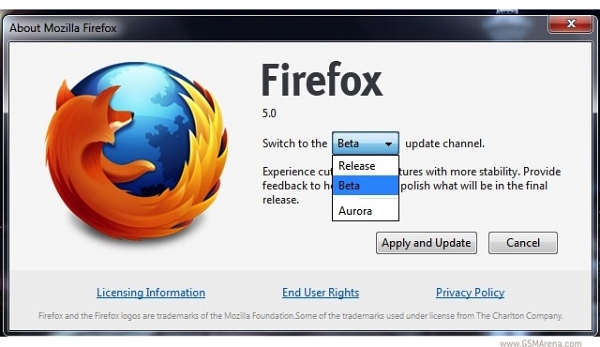 The first beta comes to you after a mere five weeks of testing on the Firefox Aurrora channel. New additions include a feature called channel switcher. The beauty of this feature is that a user no longer has to download separate versions of the browser. With the channel switcher, a user can simply switch between the release, beta and Aurora version of the application. The option will be placed in the About section of the browser.
This new way of work is a bit similar to the way Chrome development works – with three separate channels for regular, beta and early releases – however the new Firefox switcher certainly scores in the user-friendliness match.
The Firefox 5 beta also boasts of performance and stability enhancements and support for the new CSS animation standards. To download this latest version, hit the source link below. I already downloaded mine.