The Motrr Galileo is an interesting little device that doesn't divulge much about its purpose by its looks alone. At first glance you might take it for a Bluetooth speaker or something similar. But you would be wrong. Indeed, it's meant to connect to with your iPhone via Bluetooth but it has nothing to do with music.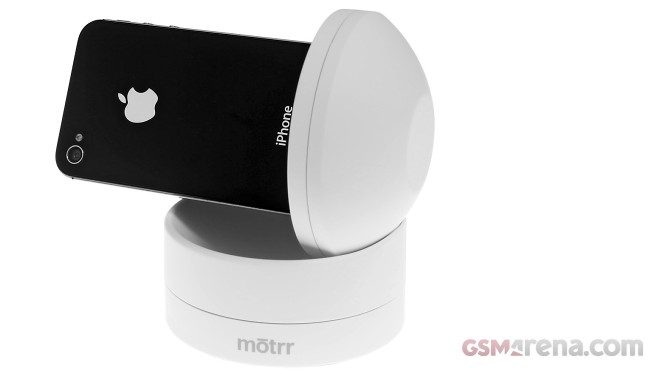 The Galileo is a motorized stand that can be used to capture beautiful panoramas or timelapse videos. By mounting an iPhone or GoPro camera on the Galileo, you can capture video and photo footage with seamless motion that could even be remotely controlled.
All about it…
Motrr's Galileo is a Bluetooth-enabled motorized iPhone stand that can be used to make better than average timelapse movies or 360 degree panoramas (photo spheres). It would also serve as a manually adjustable stand/tripod for your phone. With the right set of third-party apps you can also control it remotely and see what the camera of the phone on it sees – sort of like remotely controlled IP security camera. It has a rechargeable battery inside so it can do its thing whenever and wherever you need it to.
The Motrr Galileo itself comes in either black or white and its surface is completely smooth and matte. It has an amazingly sophisticated build and each motion out of the three moving parts is smooth and controlled giving you the feeling of little gears rubbing parts against each other.
There's a built-in battery that is used to power the movements of the Galileo but the device cannot charge the docked smartphone or GoPro you have on it. The underside of the Galileo has an LED-backlit battery icon that indicates the battery level – you can charge it up via the microUSB cable. Alongside it lies a standard tripod mount.
Since Motrr hasn't included any buttons on the Galileo, you activate it with a quick twist of either part.
There are already a few apps compatible with the Motrr Galileo, with supposedly more on the way (the hardware maker has released an SDK for willing developers). The apps allow for different use cases of the stand – you get one for making cinematic timelapses with camera movement, or another for automatic panoramas.
You can control the Galileo remotely by pairing your smartphone to it so that video calls across the globe can be all that more immersive.
Video enthusiasts will appreciate the subject and face tracking which can be enabled through a Galileo-compatible app. The Galileo will automatically move the mounted camera to keep up with the tracked face or object, which is very nice, especially if you're busy handling the said subject while the phone is recording (hello, budding YouTube stars).
Using it…
It takes some getting used to and setting up but once you've become accustomed to the way the Motrr Galileo works it's easy to achieve good video with it. Subject tracking we found was also very accurate in well-lit environments. Moving faster made tracking a challenge but not impossible.
Another issue is tracking in lower light situation when the contrast isn't as good and the iPhone camera had trouble with following – but we're talking really dark.
The Galileo was very responsive when controlled remotely.
When we used the Galileo to shoot panoramas with the iPhone's built-in Panorama mode, it didn't quite work out. We just couldn't move the phone as precisely as we could do it with our hands. If you buy the specially made app though, creating 360-degree photo spheres is not a problem.
Capturing timelapse videos the Galileo is equally seamless and even fun to use.
Loving it…
We love the build quality of the Motrr Galileo. The little mount is sturdy and feels great to the touch with its matte, soft surface. We also love the well-tuned moving parts.
The Galileo also gives us great possibilities, especially for capturing video. It's really hard to create timelapse videos with your phone with smooth, even movement without resorting to countless hours of moving a slider by yourself.
And finally, we think that with a Galileo in the mix, a video call is made worlds better with the person on the other end given more control and feeling less out of the room.
Not to mention you can use it to set up a remotely positioned phone to work as an interactable security camera (there's an app for that).
Hating it…
We hate that along with the high starting price tag of €150 you only get the Motrr Galileo with one extra rubber insert and additional ones (for say, a GoPro or an iPhone 6) will cost you an extra €29,95 per mount.
For that amount, the stand provides you with no wired connection to your phone. You can't charge your device (unless you buy the 30-pin model aimed at older iPhones, prior to the iPhone 5) or output the video to an HDTV.
Another bummer is the lack of support for other devices besides the GoPro and the various iPhone – it seems easy enough to design a mount for an Android or Windows Phone smartphone, or even a dedicated camera (albeit a little one).
You also have to pay through the nose for a whole bunch of different third-party apps to make full use of the Motr Calileo potential.
Wrapping up…
The Motrr Galileo is an innovative product that can add a new dimension to your mobile videography. Its exorbitant price aside, it will do what it's meant for just fine, but that isn't all that much. It's a cool little gadget but one reserved for iPhone and GoPro users, which severely limits its flexibility as a photography tool.
The Motrr Galileo lacks proper competition, so it offers unique functionality. Unfortunately, it's tough to recommend given its current limitations.
As things stand right now, the Galileo is cool and fun to play around with and if you have some cash to burn on a new toy that can breathe some new life into an older iPhone or GoPro, the Galileo is a great way to get it.