Motorola Mobility has pulled yet another ace from its sleeve – the Motorola XOOM 10.1" tablet has a dual-core Tegra 2 at its heart and Android 3.0 Honeycomb in its mind. Like the Atrix phone, the Motorola XOOM is all about accessorizing – like, say, a wireless keyboard, or maybe a dock or two…
NVIDIA's Tegra 2 is the next big thing in Android tablets – and with 1GHz dual-core CPU (coupled with 1GB of RAM), FullHD decoding and output via HDMI port and smooth Flash 10.1 support, that's no surprise.
The Motorola XOOM has a 10.1" screen with 1280×800 pixels resolution. There's a 2MP video-call camera on the front and a 5MP primary camera with dual-LED flash on the back with 720p video recording capabilities.
The XOOM will be leveraging on Verizon's LTE network. It can also connect to Wi-Fi b/g/n networks working at either 2.4GHz or 5GHz. Local storage wouldn't be a problem with the Motorola XOOM as it has 32GB of built-in memory and an SD card support (that's right, SD not microSD).
The Motorola XOOM measures in at 730g and is 12.9mm thick. The battery promises up to 10 hours of video playback.
I mentioned accessories, so here they are – the Bluetooth wireless keyboard was designed for Android so it has the Android function keys, the Speaker HD Dock packs built-in speakers, HDMI port and three USB 2.0 ports. There's also a standard charging dock and a fancy leather Portfolio Case.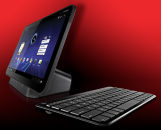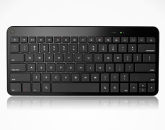 Motorola XOOM and some of its accessories: Wireless keyboard, Speaker HD Dock and Portfolio Case
The Motorola XOOM will launch in Q1 but the 4G functionality will come in Q2 after an upgrade.
Here's a hands-on video with the XOOM: