The Motorola RAZR MAXX topped our battery test charts, but Moto is keen to remind people that the MAXX is a champ in even more battery endurance disciplines – like GPS navigation, for example.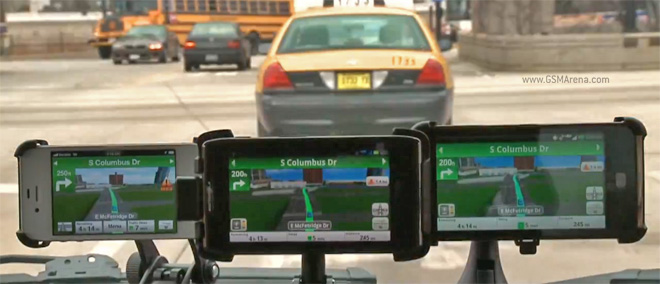 The RAZR MAXX went head to head with the iPhone 4S and the LG Spectrum. All three phones are on Verizon's network (the MAXX and Spectrum are using LTE, while the 4S is on 3G) and are using VZ Navigator for the test.
The Motorola RAZR MAXX crams a 3300mAh battery in its 9mm frame (okay, 8.99mm if you want to be exact), while the 9.3mm thick iPhone has a 1432mAh battery and the Spectrum is the thickest at 10.4mm and has a 1830mAh battery.
That's it for the specs, here's the time lapse video, which shows how each of the contestants did:
It's not a big surprise that the RAZR MAXX wins this test (Motorola wouldn't be bragging about it otherwise, right?). But it's impressive that it completed a 4+ hour journey and still had a 40% charge remaining (and 40% of a 3300mAh battery is actually quite a bit of juice left).
This video conveniently avoids to mention more about things like screen brightness (that affects battery life quite a bit), screen visibility in sunlight and that you can always just use a charger in the car, but still seems quite convincing. Let's just say I hope that in the future, all phones have huge batteries.