Motorola has already updated its Moto X 2nd Gen (2014) with the latest Android Lollipop build and we've decided to run our battery life tests again. Lollipop brings a number of improvements including a number of battery optimizations combined under what's known as Project Volta.
We've already detailed Volta's features and you can read more about them right here.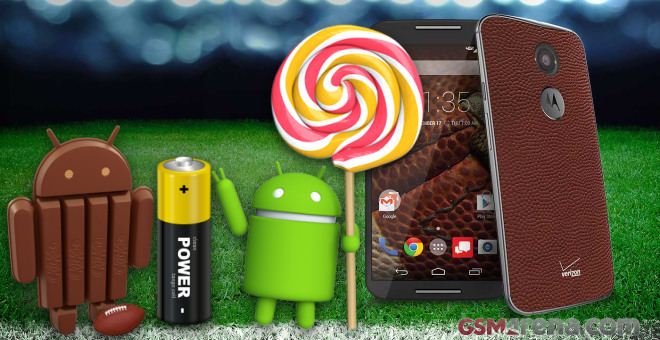 In our previous tests with phones that recently got updated to Lollipop we weren't able to determine a specific pattern in the change in battery life – some of the phones did better in talk time or web browsing, some did worse. It seems every device behaves differently under Lollipop OS, so we really had no clue what to expect from the updated Moto X 2nd Gen.
We put the Lollipop-treated Moto X 2nd Gen through our 3G talk time test and surprisingly, its battery went flat some good four hours earlier than it did under Android KitKat.
Talk time
Motorola Moto X (2014) (KitKat)




14:15

Motorola Moto X (2014) (Lollipop)




10:31
The overall web browsing performance has improved though and now the Moto X can last 2 hours more under normal browsing usage.
Web browsing
Motorola Moto X (2014) (Lollipop)




9:21

Motorola Moto X (2014) (KitKat)




7:11
The video playback has received a bump as well with extra two and a half hours on a single charge. Now your Lollipop-running Moto X 2nd Gen is capable of lasting 10 hours and then some when it comes to watching movies.
Video playback
Motorola Moto X (2014) (Lollipop)




10:10

Motorola Moto X (2014) (KitKat)




7:31
The Lollipop update allowed for slightly better standby endurance, which isn't displayed in our scorecard but is calculated into the final endurance rating.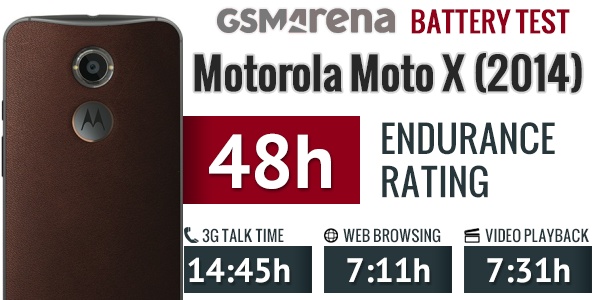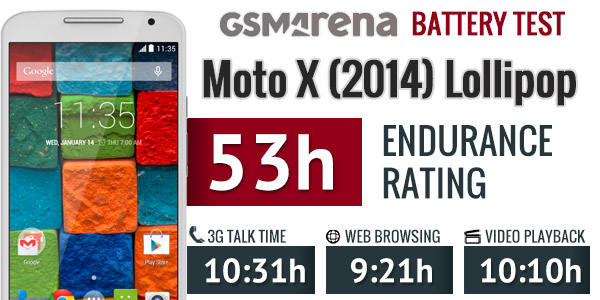 So in the end, despite in the drop in talk time, the Moto X 2nd Gen scored a 5-hours longer endurance rating under Android Lollipop thanks to its better scores on web browsing, video playback and standby endurance. The above battery performance means that the device will make it through two days and five hours of usage is you use it for an hour each of telephony, web browsing and video playback daily.
By the way, we've just updated our Moto X (2014) review with new camera and video samples, benchmark scores, loudspeaker results, display performance, so you may want to stop by and check it out again.