Verizon and Motorola had some interesting Androids to show at CES, including a brand new member of the Droid family. It's not as thin as its RAZR siblings, but 12.9mm still sounds great given the arsenal of features it offers (4″ qHD screen, slide-out QWERTY and LTE are the headliners).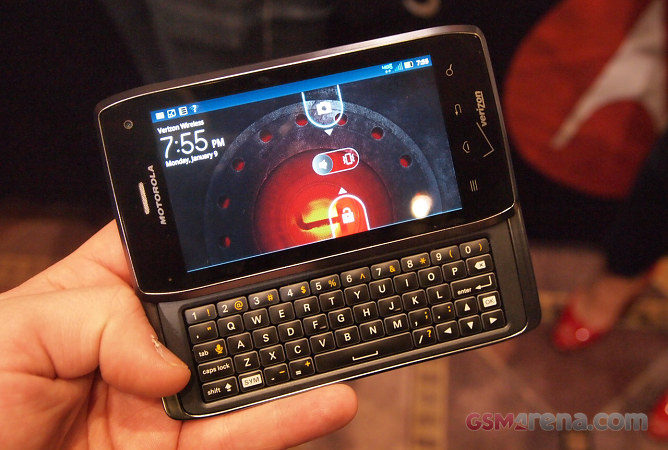 We got the opportunity to see the Droid 4 in person and we're ready to share our initial impressions.
Let's start with the new Droid. The Motorola Droid 4 measures 126.7 x 69.9 x 12.9 mm and weighs 179 grams. If you've just handled the Motorola RAZR (like we did) it feels a little chunky, but it's fairly compact for its class. It's heavier than the Droid 3 though (167g) and while it's not the heaviest phone, we were hoping it would be lighter.
The Droid 4 packs a really fancy slide-out QWERTY keyboard – the edge-lit, laser-cut keys provide a very good typing experience and the backlight is very even.
The LCD screen on the Droid 4 measures 4″ in diagonal and boasts a qHD resolution. The display is protected by scratch-resistant glass. We'd really like to get a better chance to examine the screen to make sure it doesn't use a PenTile matrix as Moto has used before on its 4″ qHD screens.
Anyway, sliding the screen and keyboard apart isn't the most comfortable experience as there's no spring-assistance mechanism to smooth things out.
The back of the Motorola Droid 4 felt rather ordinary but that's probably because we got spoiled with the Kevlar-coated back of the RAZR.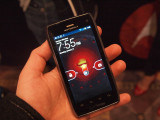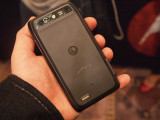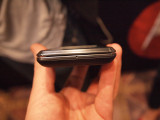 Motorola Droid 4 hands-on photos
Inside is a 1785mAh battery that is good for 12 hours and a half of continuous talk time and about 8 and a half days of standby.
Motorola have added a couple of protective layers on the Droid 4 – a hardware one (special water-repellant coating) and a software one, called Business Ready. Business Ready offers government-grade encryption for your contacts, emails and calendar.
Verizon is touting 5-12Mbps downlink and 2-5Mbps uplink speeds through their LTE network when using the Motorola Droid 4, but we didn't get a chance to test that.
The Droid 4 will be launching soon but there's no pricing yet. It will use Android 2.3.5 at launch, but the Android 4.0 Ice Cream Sandwich update is on the way.