Last month we heard that Motorola's Moto Maker device customization service would become available for the Moto 360 smartwatch too, and today is the day when this has actually happened. Like in the case of the Moto X, you can use Moto Maker to customize your Moto 360 according to your own taste, and it will be delivered to you how you want it.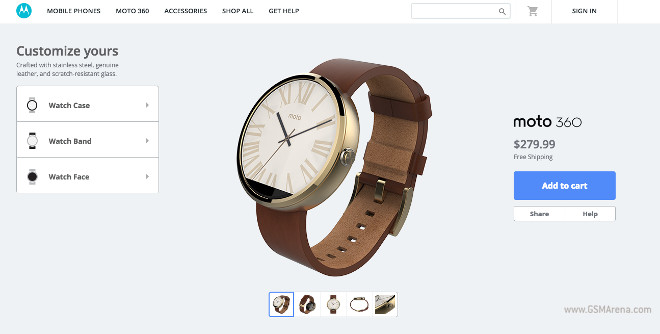 You can choose from three case finishes – dark metal, light metal, or champagne gold. This is actually the first step if you use Moto Maker for the Moto 360.
Once you've settled on one of those, it's time to pick from nine band options, which include leather, metal, as well as Motorola's new "mono-link design", which is apparently a modern take on the classic metal band. Finally, you can choose one of 11 watch faces, and the one you like will be the one you see when you first turn on your Moto 360. Of course, after you receive the smartwatch, you can install many other watch faces too.
Underneath all of that, you're getting the same Moto 360 you might already have heard about. It comes with a 1.56-inch 320×290 touchscreen, a TI OMAP3 chipset, 4GB of storage, 512MB of RAM, and a 320 mAh battery. It's IP67 certified for water and dust resistance, it has a built-in heart rate monitor and pedometer, it's 46mm in diameter, 11.5mm thick, and it weighs 49g. The Moto 360 runs Android Wear.