XDA-Developers member jonmorris got his Moto G and shared some early benchmarks and battery stats of the sub-$200 Android handset. Also, it turns out the Moto G has a feature called Trusted devices, which disables the lockscreen when the phone is connected to a certain Bluetooth device.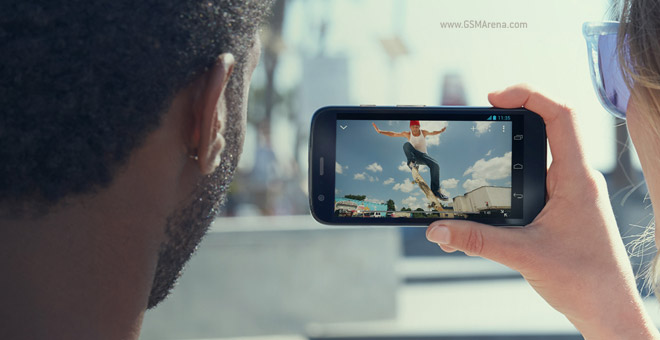 This is a great alternative to the Motorola Skip (which requires NFC and the Moto G doesn't have that) and will work great with Bluetooth headsets and smartwatches.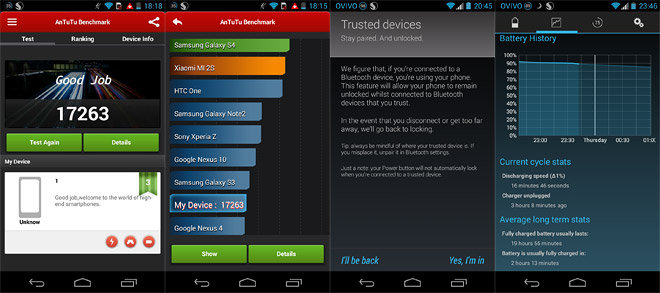 Anyway, back to the benchmarks. In AnTuTu, the Moto G scored 17,263, which puts it ahead of the Nexus 4 and a bit behind the Samsung Galaxy S III. Those are some pretty surprising results, considering those two are flagships only a year old and the Cortex-A7 based Snapdragon 400 is no performance monster.
AnTuTu
Motorola Moto X




19,031

Samsung Galaxy S III




18,166

Motorola Moto G




17,236

LG Nexus 4




17,006
This is only one benchmark and doesn't necessarily show real-life performance, but it's still very impressive.
A battery app reports that the Moto G loses a percentage of batter charge in about 17 minutes and the whole 2,070mAh battery lasts just under 20 hours. jonmorris also reports that the battery life seems better than that of the Nexus 5.