And just like that the Pebble Time smart watch has reached over 38 thousand backers and a whopping $8 million pledged. Granted Pebble could have gone the traditional route, but it's one of the legendary Kickstarters and there's no denying this is great marketing.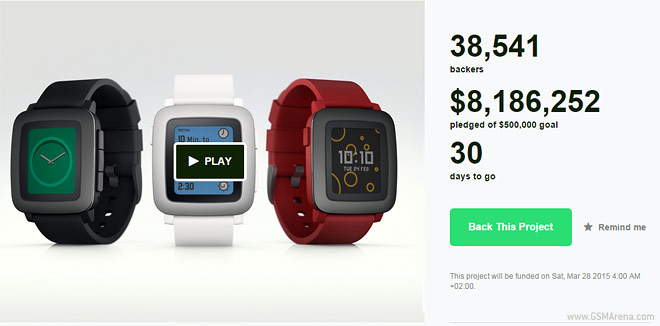 Less than 24 hours since the campaign launched it's closing in on the previous campaign, $10.3 million, but at this rate it should break all records.
The crowdsourcing campaign that brought in the most backing is the Coolest Cooler, which launched on Kickstarter at the end of August last year. It brought it $13.3 million from 66 thousand backers.
Unless it loses all steam, the Pebble Time campaign should surpass it by tomorrow at the latest. A big slowdown is expected once the early bird offers run out. Pebble keeps adding more and more units to the early bird offers though, keeping them always almost over but always available too.
That's a clever numbers game from the Pebble team – once the early birds run out, people might as well wait for the retail release (last time around some Pebbles hit retail before all backers got theirs). Kickstarter, of course, keeps a percentage of the proceeds, but for this much publicity it's downright cheap.