Modu is back – their new Modu T phone marks a huge bump in the specs compared to the original model and revamps the concept of jackets with the new "fy" devices. It's also the lightest touch phone in the world, says Guinness…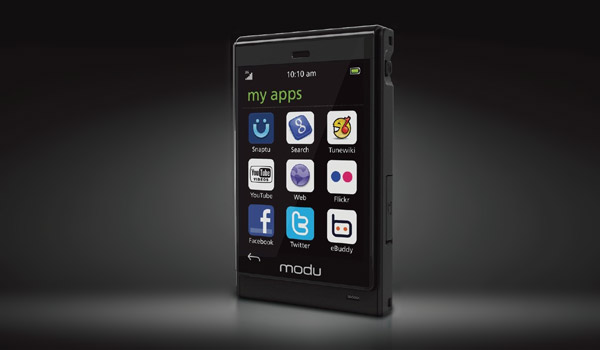 The Modu T phone has 3G connectivity with HSDPA and a built-in GPS receiver. It weighs an amazing 55 grams and is just 7.8mm thin. The screen is also the smallest touchscreen I've heard of – 2.2", smaller than even the Samsung Champ and it's 2.4" screen.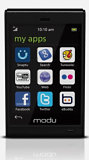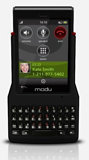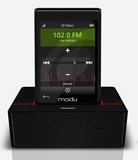 The Modu T phone • with boostify • sportfy • textfy
The T phone runs on the BREW platform (same as HTC Smart) and offers YouTube, Facebook, Twitter and Flickr integration. It comes with a 2GB microSD card and supports cards up to 32GB.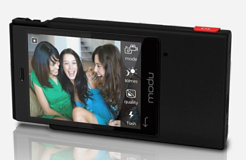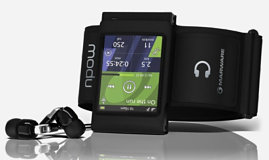 Modu T phone with camerafy • textify
The Modu fy extras are the new jackets – they are extra hardware that can be attach to the Modu T phone and extend its functionality in a flexible way. Here are the planned fy extensins:
camerafy – a 5MP camera for the Modu T phone
sportfy – listen to music and get workout or lap info during training
boostify – adds hands-free and loudspeaker
textify – full QWERTY keyboard and 5MP camera (should launch in early 2011)
It's certainly an interesting concept – plugging in new hardware to improve your phone. Whether or not this will catch up remains to be seen. Oh, and Modu are working on the W phone, which should like about the same as the T-phone, but will add Wi-Fi and more importantly Android OS to the mix.