Google often introduces small but helpful updates to Search, Maps and their other services. And you can add this new bit into the 'Why didn't they think of this sooner?' column. Google Mobile Search on Android phones and iPhones now lists results from the respective app stores along with the usual results…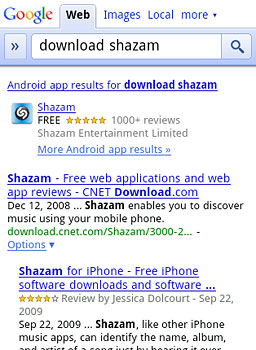 This works on mobile version of Google.com – searching for 'shazaam download' or 'bank of America app' or something similar should make a link to the app store (either Apple App Store or Android Market) show up on top.
The result shows basic info about the app – the icon, price, rating, number of reviews and the publisher of the app. Hitting the link brings you to that application's page in the app store.
This new feature should work on Android devices and iPhones in the US, but Google say they will expand it to more countries and more devices in the near future. This sounds great for OSes without a centralized app store (or a different app store for each maker).