The jury is still out on the "mirror-less interchangeable lens systems are the future" case but Samsung have already jumped on the bandwagon. And when a company of this caliber enters a new market it is usually a good idea to pay attention. The Samsung NX10 is the first member of the new NX series of mirror-less interchangeable lens cameras.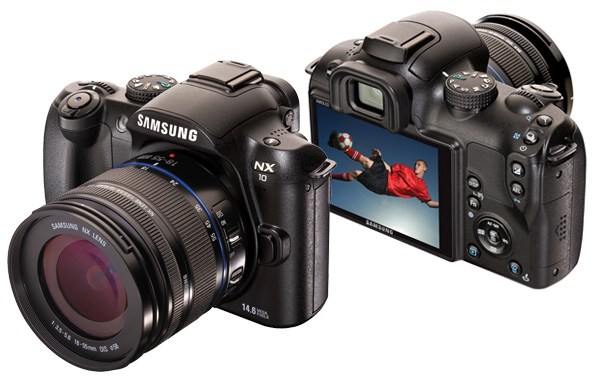 The Samsung NX10 body is built around a 14.6 megapixel APS-C-sized CMOS sensor, which as we suspect is the same as (or closely related to) the Pentax K-7 one. Considering how bad the Pentax K-7 did, we are hoping we're wrong on this one as the Samsung NX10 packs quite a lot of interesting features.
The DSLR-style NX10 sports a VGA electronic viewfinder and a 3.0″ OLED screen. Video recording goes up to 720p HD video. The first three lenses available for the NX10 completely new mount include a 18-55mm F3.5-5.6 kit lens, a 55-200mm telezoom and a 30mm F2 pancake lens.
The problem? Well it turns out the Samsung NX10 isn't all that compact to begin with and that basically defies the whole purpose of its mirror-less existence. It's larger than its biggest competitors – the Micro-Four-Thirds based Olympus E-P1 and Panasonic GF1. Come to think of it, the NX10 is almost as big as the Olympus E-420 DSLR and that one has a mirror inside.
Anyways, DPreview have already got their hands on an NX10 so if you are interested you can check their preview article over here. You can also check out some samples from the new camera over here.