The Microsoft Surface is Redmond's first attempt at building its own tablet hardware and comes with the spanking new Windows RT preinstalled.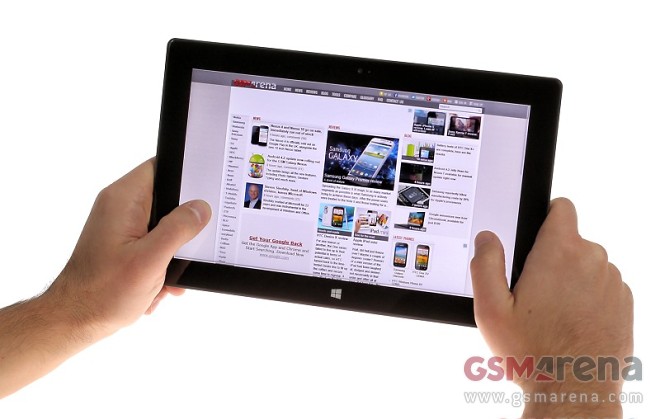 Office Preview 2013, live tiles, VaporMG, a kickstand and Windows functionality on a slate all but await you after the break.
As usual we'll start off with a hands-on video along with an unboxing. We give the various gestures on the Surface a go and talk hardware and software.
The first impression you get when you start playing with the Surface is that Microsoft really put a lot of effort into designing its tablet with quality and ease of use standing high on the company's priority list.
It's nothing like we've ever seen before. The VaporMG (read Vapor Mag) is a molten magnesium alloy which is both tough and light. There's a fingerprint repelling coating applied to the Surface, which does more to hide the smudges than to actually repel them.
The kickstand starts off as a novelty but quickly brings you to the question "Why doesn't my tablet have one of these?" – it really is that intuitive and natural on the Microsoft Surface.
Once you've unfolded the kickstand you gain access to the microSD card slot and the tablet can be placed on just about every flat surface.
The keyboard fits perfectly into place thanks to its magnetic connector and can even support the Surface's weight if needed. As for the typing experience we can't really say it comes anywhere near the more spacious keyboards with full hardware buttons that actually click whilst you're typing.
Windows RT isn't the Windows 8 substitute you might be lusting after but it is miles ahead of iOS on the iPad in certain areas and even manages to give the more open Android a run for its money in terms of functionality.
We're working to bring you the Microsoft Surface review in the coming days so stay tuned.