Today Microsoft has officially unveiled its Wireless Display Adapter, which will serve as its competitor for Google's very successful Chromecast dongle. Microsoft's product first got leaked back in August.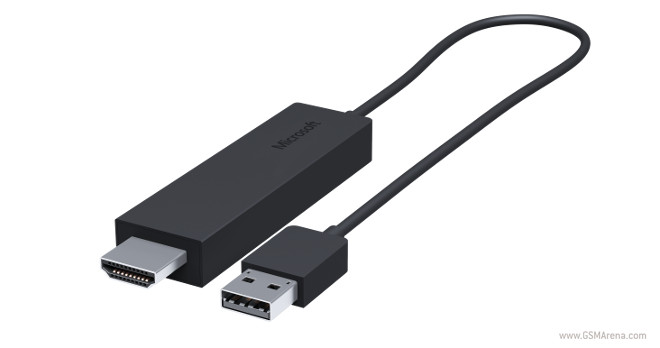 The Wireless Display Adapter uses Miracast technology, so any Miracast-enabled device can send stuff to it. The adapter itself comes with two plugs: one goes into an HDMI port on your TV, monitor, or projector, and the other one is a normal USB plug which is used for powering the dongle.
On most TVs, you should be able to simply use a spare USB port for this purpose. The setup is very similar to what's needed to run a Chromecast, in fact. Microsoft's offering boasts improved compatibility, however, since it automatically works with any Miracast-enabled device out there, so you're not limited to certain apps that support its streaming protocol (like with the Chromecast).
Once you've paired your Microsoft Wireless Display Adapter with a source such as a smartphone, you'll be able to mirror exactly what you can see on its screen to the TV. On certain devices, you'll even be able to extend the screen.
There is one downside to Microsoft's dongle when compared to the Chromecast – price. The Wireless Display Adapter is now available for pre-order in the US and Canada, via Microsoft's online store. In the US, it's priced at $59.95. It will be released on October 31.