Remember the Microsoft Surface? No, not the tablet, the large, touch-sensitive table. It never took off, but it's successor is here and it leverages all the new tech in Windows 10.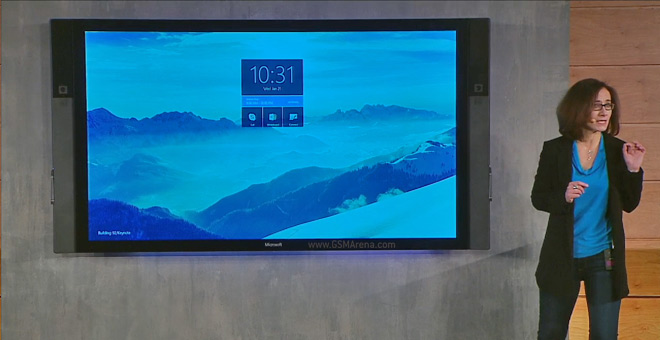 The Microsoft Surface Hub was demoed on a massive 84″ 4K touch-sensitive display and it can even detect you when you walk into the room.
The Surface Hub is aimed at businesses and promises to streamline meetings. No more wrangling conference calls and trying to get your presentation files on the projector.
Skype for Business will bring in the people who can't physically attend while the extensive sync functionality with OneDrive will make your presentation easily accessible.
A special version of OneNote is available when you need to sketch something on the spot. Microsoft promises a fast, lag-free experience, just like you would get from a real marker writing on a whiteboard. This works with mulitple fingers and multiple pens writing on the roomy screen.
The Microsoft Surface Hub packs dual cameras and a mic array for those Skype calls, plus a number of additional "advanced sensors."
There's no word on price yet, but we have a feeling this will be one of those "if you have to ask…" type of deals.