Microsoft had an interesting final quarter for 2012 – the three months period that saw the launches of both Windows 8 and Windows Phone 8. As a result, the company is reporting record revenues but also a slight decline in operating income.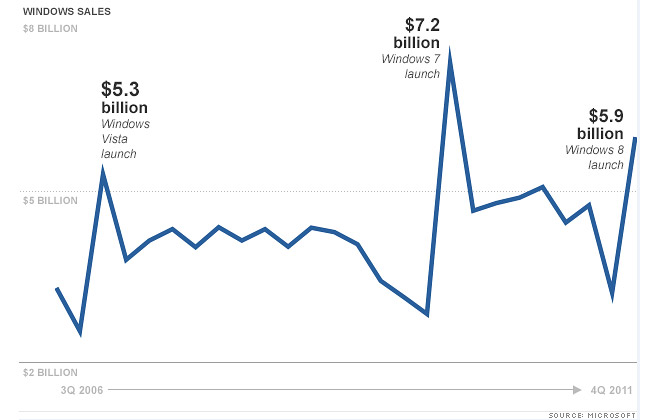 Sales of Windows saw a 24% increase from the year ago quarter, but the Windows 8 launch is behind the Windows 7 launch, which boosted sales by 76%. Even Vista brought a 65% jump in sales, though in terms of monetary value the Windows 8 launch brought in more cash (Vista replaced 5 year old XP, while Windows 7 is still relatively recent).
The Surface tablet, the flagship Windows 8 device, was not mentioned at all. Microsoft expects Windows sales to pick up as more touch-enabled Windows 8 devices hit the shelves (including the x86 Surface Pro).
Anyway, revenue for the final quarter of last year was $21.5 billion, up 3% from Q4 of 2011. Operating income, however, went down 3%.
The decline can be explained with reduced sales with the Microsoft Business Division and the Entertainment and Devices division. The Business Division is responsible for Office, which is due for an upgrade soon (the dip in sales is the calm before the storm).
The Entertainment and Devices division handles both Windows Phone 8 and Xbox / Kinect. The Xbox 360 is heading towards retirement (as rumors of its successors increase) and WP8 is picking up steam – Nokia, which is most closely aligned with the mobile OS, went back into profitability for its last quarter of 2012.
You can get the detailed numbers on Microsoft's financial quarter from its press release.