Today on the Worldwide Partner Conference Microsoft's CEO Steve Ballmer revealed the company's plans of releasing multiple tablets running Windows 7 by the end of this year. He also spoke about Microsoft looking forward to the cloud computing and continuing working on the Azure OS.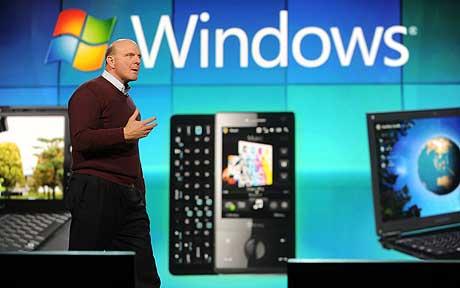 Steve Ballmer says Microsoft missed a whole generation of users on the mobile scene, but he promises Windows Phone 7 will set that right. Looking at those WP7 concepts it seems the guys at Redmond are trying to create a prettier version of the iOS, imposing the same restrictions as Apple put on their devices. Microsoft is trying to catch up with Apple, obviously.
Then comes this statement about the slate devices:
"One of the most important things we will do in smart devices is push forward with Windows 7 based slates and Windows 7 based phones."
I remember the first days of Windows 7, when Microsoft spoke proudly of their touch-optimized operating system and the newly adopted multi-touch gestures. It's been almost a year since, yet we've seen only a handful of tablets running it.
Not so long ago Apple launched the iPad and despite its obvious shortcomings managed to sell in more than 3 million units. It seems Microsoft misjudged the situation and will have a hard time making up the lost ground to Apple. Again.
Microsoft is working with various partners such as Acer, Dell, Samsung, Toshiba, Sony, etc. to push some cool Windows 7 based tablets. As you can guess HP is dropped from the list, because they opted for the webOS platform for their tablet.
The next big announcement was Microsoft's interest in cloud services. Steve Ballmer pointed Bing's share has increased with 3% up to 11.5%. He talked about social web services and apps, which require fast, modern browsers. Of course Internet Explorer 8 doesn't qualify here so he went on to explain how the new Internet Explorer 9 is where all Microsoft's hopes lay.
Microsoft wants to step up in the cloud business big time with various services and that's why it's continuing the work on their previously announced Azure cloud-computing operating system.
But all that cloud plans seem rather messy at this time and I suggest we sit tight and wait to see a few working prototypes first.
Finally Microsoft launched the Service Pack 1 Beta for Windows 7 and Windows Server 2008 R2. Neither SP1 packs any major improvements – just a combination of all available security updates and some non-security related fixes.
The only notable feature coming with the SP1 is the updated Remote Desktop, which is now capable of working with RemoteFX – a new remote-access platform coming with Windows Server 2008 R2 SP1.
The betas of the new SP1 can be downloaded right away, but Microsoft doesn't recommend them to the end-users just now. Continue on your own risk then.