The Nokia-Microsoft alliance is still going strong and Symbian smartphones are the one with the benefit this time.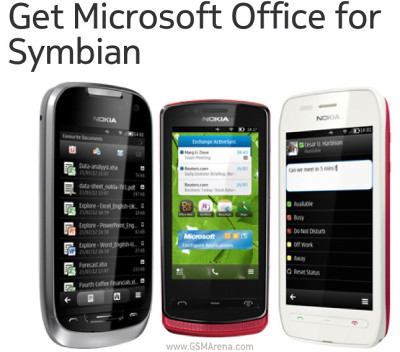 If you own a Nokia 701, 700, 603, E7, X7, C7, Oro or C6-01, you can now install the Microsoft Office app via the Software Update tool on your smartphones or via the Nokia Suite app on your computer. The Office app will also become available to Nokia N8, Nokia E6 or Nokia 500 in the following weeks, while the 808 PureView will have it preinstalled when it ships.
Until now, the true Microsoft Office experience was reserved to Windows Phone users (and WinMo old-timers), but Symbian fans (the few that remain) will now be able to join the party.
The mobile version of Microsoft Office aims to deliver functionality close to that of its PC counterpart. The Word documents support viewing and editing of all kinds of content including tables, SmartArt and charts, while PowerPoint mobile even features the Outline view, which lets you quickly browse through slides. With Excel mobile, you can create charts, or insert formulas and view rich data and charts from anywhere. Another really convenient feature of Office Mobile is that it gives you a single view to documents – whether they're stored on your phone as files, as email attachments, or on your company SharePoint site.