Today Microsoft has brought its pretty successful Office Lens app from Windows Phone to iOS and Android. Office Lens was initially introduced for the company's own mobile platform more than a year ago, and Microsoft says it's now one of the most popular free apps for Windows Phone.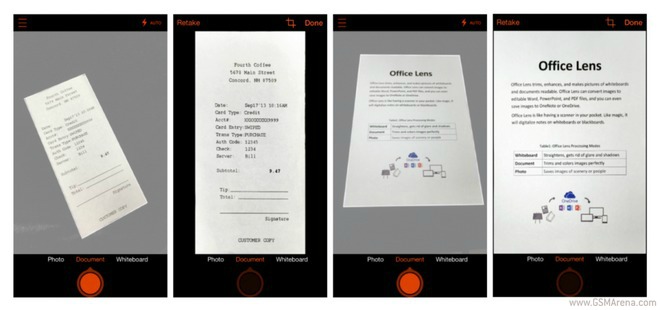 The concept behind it is simple. Office Lens allows you to capture a lot of different things with your smartphone's camera, then automatically crops and enhances the images and saves them to OneNote or OneDrive. And thanks to optical character recognition, the text inside your captures becomes searchable. The app can even convert images of paper documents into Word documents, PowerPoint presentations, or PDFs for easy editing.
Things you can shoot with Office Lens include business cards, receipts, menus, whiteboards, sticky notes, various documents, and so on. Office Lens recognizes the corners of a paper document. If you capture a business card, a contact which you can add to your phone is automatically generated. After saving a capture in OneNote or OneDrive, it gives you various options to share or export to.
While the iOS version is directly accessible in the iTunes App Store already, if you're on Android you'll have to first join this Office Lens for Android Preview community on Google+, then under "About this community" click on "Become a tester" and follow the instructions you'll see.