Today Microsoft has unveiled a new free video editing app for Windows Phone 8.1. It's called Movie Creator, and it's available in beta in the Windows Phone app store, for Lumia smartphones. It also works on tablets running Windows 8.1.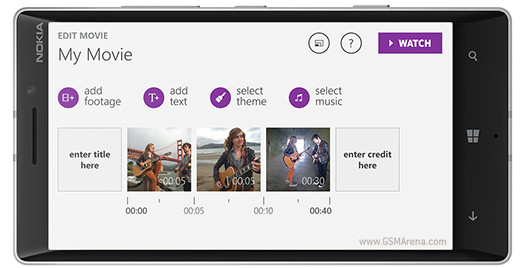 It lets you create movies using up to 25 videos you've recorded on your phone, as well as photos, cinemagraphs, 'living images', and music from your mobile device.
You can move clips wherever you want on your video timeline, edit the length of your footage, add text cards, captions, and filters, pan and zoom, and rotate stuff. Deleting clips is a one-tap affair, and you can duplicate items too. Sharing your new film can be done from right inside Movie Creator.
The app won't touch the original videos and photos you bring into it, and it automatically stores your projects so you can go back to any of them later. It lets you use some preinstalled themes that have certain things preconfigured – for example, scene transitions, filters, and the music score. Some themes are free, and some aren't.