Microsoft just decided to go Santa Claus on all its full-time employees. At the annual Microsoft employee event, CEO Steve Ballmer announced that each of the 90,000 or so full-time employees will be getting a host of freebies, including a Surface RT tablet, Windows Phone 8 device and a Windows PC.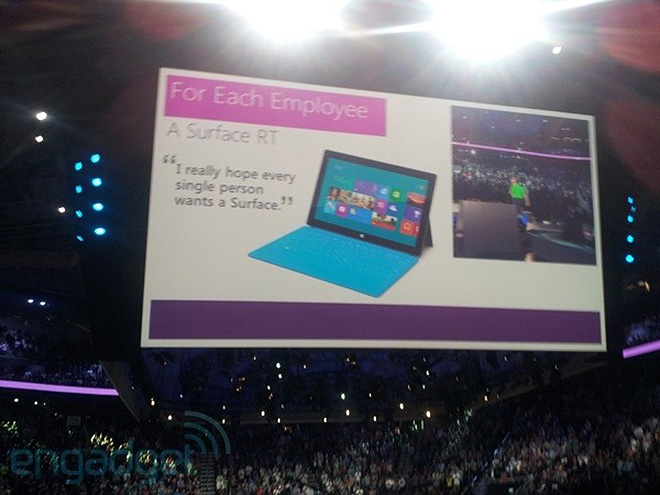 This is not the first time Microsoft decided to lavishly appraise its employees. The last time they did this was when Windows Phone 7 was announced and each employee received a free device.
Regarding the Windows Phone 8 device, it's not clear which one it would be but it's not hard to guess that it mostly like be the Lumia 920. As for the Window PC, it could be a desktop PC, a notebook or a tablet. Engadget even has a picture sent by a Microsoft employee who received a Lenovo tablet running Windows 8.
Giving away your devices to such a large number of people has its advantages. For starters the employees are up to speed with the offerings of the company and are in a better position to show off their advantages to other people. This is an easy way to let a lot of people try out your device and thus increase your prospective buyers. Of course, it also increases the goodwill among the employees.
Of course the regular folks will have to wait till October to get their hands on any of these devices.