Micromax finally announced its much anticipated Canvas 4 smartphone – a 5″ 720p device that aims to become a one of the hits in the budget market. The successor of Canvas HD, which was one of the most popular smartphones, is powered by a quad-core processor and promises to deliver excellent value for your $295.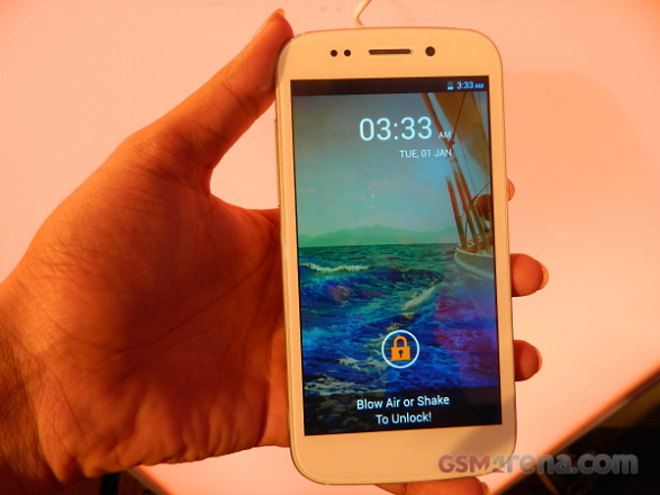 We were at the launch event and we got a chance to play with the smartphone for some time. Here is our first impression on the Micromax Canvas 4, complete with a bunch of live shots.
Design and display
The design of the Micromax Canvas 4 is sleek and simple. The device has a plastic body measuring just 8.9mm and its aluminum frame is certainly a nice touch, adding a dash of premium to the package. The frame also acts as an antenna, boosting signal strength and in turn reception quality. You can also rely on the Corning Gorilla Glass at the front to avoid scratches and things thrown at it.
The Canvas 4 sports a 5-inch IPS LCD display with a resolution of 1280 x 720 pixels that results in a near-Retina 294ppi density. The 720p screen offers good brightness levels and good contrast and nicely punchy colors. Viewing angles came out surprisingly good, too. Furthermore, the display is very sensitive, enabling a cool unlocking mode, where in you can blow air to the screen to unlock your smartphone.
Chipset and connectivity
Micromax Canvas 4 is powered by a 1.2 GHz quad-core ARM Cortex A7 processor and is supported by 1 GB of RAM. Surprisingly, there are no improvements as far as the chipset is concerned when compared to its predecessor. The Canvas 4 has 16 GB of inbuilt memory and supports extension up to 32 GB via microSD card slot.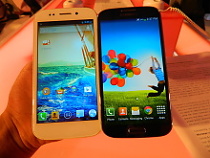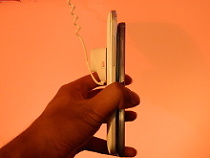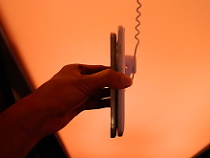 Micromax Canvas 4 and Samsung Galaxy S4
The connectivity option include GPRS, EDGE and HSPA with maximum download speed up to 42 Mbps and upload speeds up to 11 Mbps. The smartphone has the latest 4.0 version of Bluetooth and sports GPS connectivity.
Micromax Canvas 4, the latest addition to the Canvas lineup runs on Android 4.2 Jelly Bean and the juice for the smartphone is provided by a relatively small 2000mAh battery.
Camera
The fourth-generation Canvas smartphone is equipped with a 13 megapixel rear camera and impressive 5 megapixel front shooter. The primary camera has the ability to record 1080p videos and supports face-detection for up to six faces. It is also packed with features like geo-tagging, touch focus, smile and face detection.
Micromax has also included some unique camera features like four way panorama, which allows you to shoot panoramic images horizontally from right to left or left to right and vertically from top to bottom or bottom to top. There's also an HDR mode, which combines three shots in one and lets you retain detail in both highlight and shadow areas , which includes an overexposed, an underexposed and a medium exposed option. These selections combine to give you the best possible image. The burst mode in the camera allows you to click up to 99 shots in about 15 seconds and you edit and beautify the picture without having to break a sweat, with the image filter and editor.
Gesture communication, smart pause
The latest Canvas smartphone comes with lots of custom software tweaks and improvements along with some new features. The first is proximity answer phone, which allow you to answer a phone call, by bringing the smartphone close to your ear to connect automatically.
The proximity dial phone, allows you to call someone in your address book, call log or messages, by bringing the phone close to your ear. Last but not the least, the upside speaker feature will put your phone on the speaker mode, when you flip your phone over on an active call.
Micromax Canvas 4 now has the smart pause features, which was earlier seen on the Samsung Galaxy smartphones.The feature lets you pause a video or a movie automatically by looking away from the screen.
Video Pinning and Simultaneous view
The Video Pinning, which is basically the Pop Up Play that debuted on the Samsung Galaxy S3 smartphone, is now available on the Micromax Canvas 4. With video pinning, you can pin any video on your screen and keep watching as you surf, text or browse.
Simultaneous viewing, as the name suggests, allows you to view two videos at once. You can click on any other clip, while you are already watching a video and you can watch both the clips in a simultaneous preview.
First impressions
The Micromax Canvas 4 is a relatively minor update over the Canvas HD when it comes to the hardware. It's the software tweaks in the Canvas 4 that actually give it an edge over its predecessor, but we are not sure those are worth the price difference. While some of the new tricks learned by the Canvas 4 are cool and work nicely, we are not quite sure that they alone justify picking the smartphone over the slightly cheaper Canvas 2 Plus, Canvas Doodle and, of course, Canvas HD.