Meta used to be the king of the smartwatch roost back in the day, but they've been pretty quiet on the wearable front. That is, until now.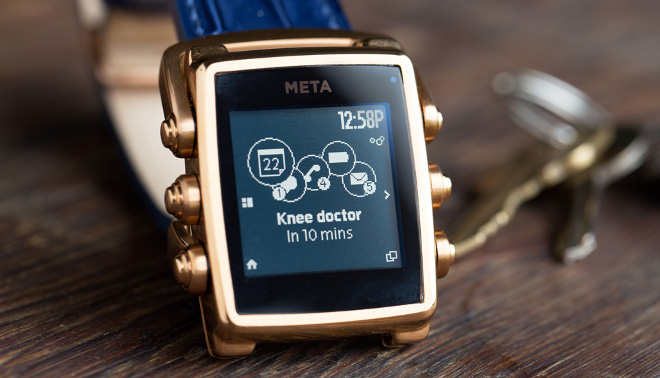 Meet the Meta M1, which goes on pre-order today.
Designed by Nokia and Frank Nuovo of Vertu, the M1 will be released this September, and features compatibility with both Android and iOS platforms.
The M1's biggest competitor will most likely be the Pebble, as both wearables have similar design and interface philosophies. The M1 also features a monochrome display, with an at-a-glance interface that shows calendar, missed call, and other notifications right on the face of the watch.
The M1 will also feature different wristband options. A stainless steel variant will run you $450, but the more modest M1 with the black rubber strap will only cost you $250.
It might be difficult for Meta to compete with some of the newer Android Wear offerings, especially since Google's wearables offer fancy voice commands (which the M1, does not). However, the premium design of the M1 might be enough to sway buyers who don't require some of the flashier features offered by Google's wrist-friendly OS.