We stopped by the Ubuntu stand to play with the Meizu MX4 running the novel OS. Meizu had been building up to the MWC by teasing the new edition of the MX4, which happens to be only the second smartphone booting Ubuntu, after the entry-level BQ Aquaris E4.5.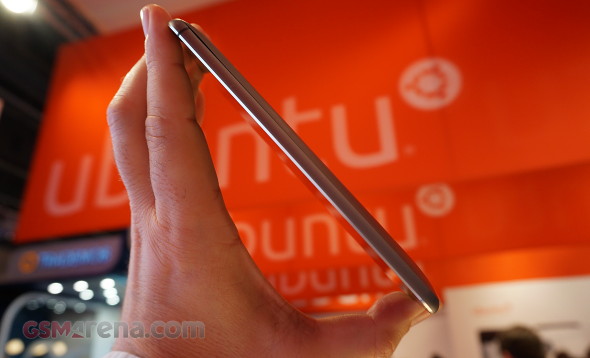 When it comes to hardware, the MX4 is the exact same device we reviewed a few months ago in its Android flavor. It sports a 5.36-inch display of 1152 x 1920 pixel resolution, a Mediatek chipset with an octa-core processor and 2GB of RAM. It's a distinctly better equipped device than the BQ Aquaris E4.5, and one that can be a more widely recognizable ambassador to the emerging OS platform.
It's not the first time we meet Ubuntu's take on a mobile OS. In fact, it was the distant 2013, again at MWC, when we had the opportunity to play with a modified Nexus 4. The platform never managed to make it to market though, until now.
Ubuntu on your smartphone does away with the familiar app grid concept, and offers context-specific content instead. The info is arranged in "scopes" which aggregate the services, you'd normally need separate apps to access. All of it is customizeable, so you can select which services populate the scopes pages.
Interaction with the smartphone is extensively gesture-operated. At this point the Meizu MX4 home button in not operational, but it will be enabled at a latter stage, we were informed.
Swiping from the left edge opens a list of your favorite services, while pulling from the top allows direct access to system settings, instead of taking you to a dedicated app. Swiping from the right edge shows a task switcher. That could be the most standard feature in the OS, with a familiar swipe away to close a running app. Pulling up from the bottom opens the personalization options.
It actually offers a fluid experience, and everything is only a swipe away, although at times it makes you wonder if there aren't actually too many gestures to keep track of. You can check how that plays out in practice in the hands-on video, we grabbed for you from the event floor.