Aside from unveiling the 64-bit true octa-core MT6795 chipset today, MediaTek has also showcased its 32-bit MT6595 part for the third time this year. Since we already know pretty much everything there is to know about this SoC, the Taiwanese company decided to hype it up by boasting that it's gotten a result of 47,233 points in the AnTuTu benchmark.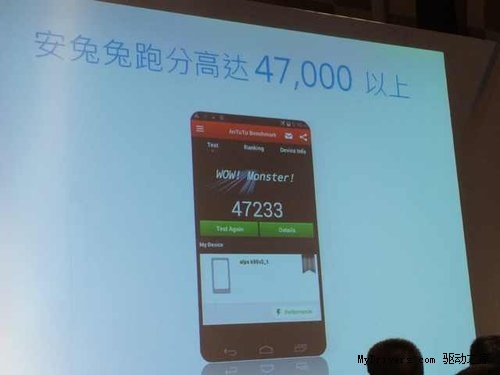 As you may imagine, that's nothing to be ashamed of. On the contrary, it's more than many other chipsets from competing vendors have been able to achieve.
In fact, the Samsung Galaxy S5 powered by the Qualcomm Snapdragon 801 SoC managed only about 36,000 points on the same benchmark, while its octa-core sibling scored 38K. The OnePlus One also hovers around 38K, and the HTC One (M8) has to make do with 37K.
Obviously though, you should know that benchmarks aren't everything, and real-life usage may not be reflective of these scores. Regardless, it looks like MediaTek is preparing to make the jump from a maker of mostly low-end or lower-midrange chipsets and into the big leagues, where it can compete with the likes of Qualcomm and Samsung not only on price but also on performance.
The MT6595 is the first MediaTek chipset to come with built-in LTE support, and it's also the first one to use ARM's big.LITTLE architecture. Its CPU pairs four Cortex-A17 cores (that can be clocked up to 2.2 GHz) with four Cortex-A7 cores (that can go up to 1.7 GHz). The former of those are higher-performing, while the latter are focused on preserving battery life.
Phones powered by the MediaTek MT6595 should be out in the next few weeks or months, which is when we'll know how accurate an indication of its actual performance this benchmark really was.