Mailbox has officially released a beta version of their popular app on the Mac. If you had signed up for the beta released back when it was first shown, then you should get a mail with a download link. Once downloaded, you can then also invite three other people to try out the app by sending them betacoins.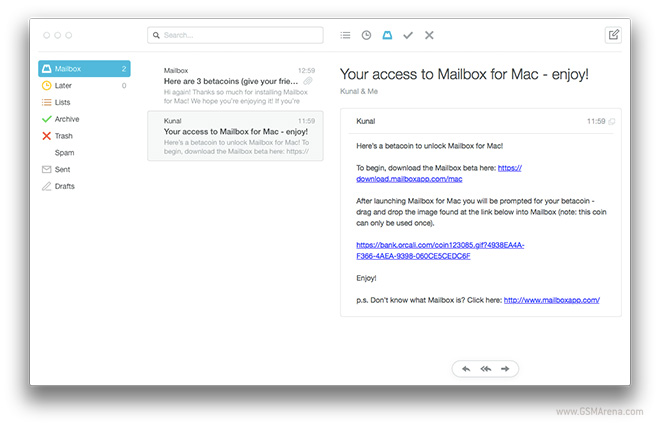 Mailbox works similar to its counterparts on iOS and Android. Other than the clean, minimalist interface, you also have full gesture support for deleting, archiving and scheduling mail. Mailbox is also adding support for drafts in the Mac and iOS version, and it's coming soon on Android.
Mailbox requires your Dropbox login to sign into your app and then it syncs your mail accounts from your other devices. Unfortunately, it still supports only Gmail and iCloud mail accounts for now. Also, for the beta, you must have the Betacoins, which are small image files that need to be dragged into the app to authenticate it and are one-time use only.
If you have a Mac and want to try out the app, use one of the links below to get the Betacoin.
Download • Betacoin 1 • Betacoin 2 • Betacoin 3