New companies have joined ARM's initiative to build powerful but efficient chipsets using the big.LITTLE architecture. A total of 17 companies have licenses to build chipsets that combine the powerful Cortex-A15 with the efficient Cortex-A7.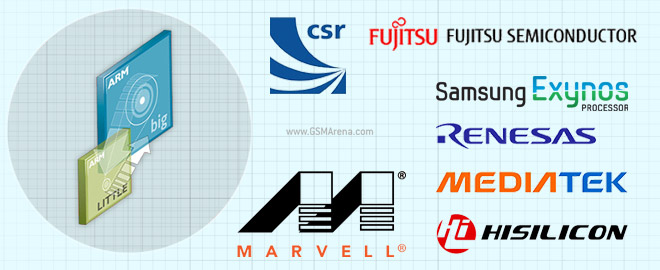 ARM didn't provide a list of the newcomers, but among the companies with a big.LITTLE license are names like MediaTek and HiSilicon. MediaTek are best known for the chipsets in mid-range smartphones from smaller companies and HiSilicon is behind Huawei's custom chips.
So, does the license mean cheap Cortex-A15/A7 chipsets are incoming? Here's hoping it does – small makers have successfully challenged the big competitors (like Meizu MX 4-core outperforming Samsung Galaxy S III), but recently even big companies have started looking at MediaTek.
Rumor has it that Sony is considering a phone based on a MediaTek quad Cortex-A7 CPU, now that ST-Ericsson (makers of NovaThor chipsets) is closed for business.
Absent from the list are big players like Qualcomm, Apple and NVIDIA. Qualcomm and Apple design their own CPU cores rather than license a Cortex from ARM and NVIDIA has an analog of big.LITTLE with the 4-PLUS-1 architecture in the Tegra 3 and 4 chipsets, which explains the omissions.
Other than Samsung, MediaTek and HiSilicon, Fujitsu Semiconductor, Renesas Mobile, CSR, LSI and Marvell have big.LITTLE licenses.