Samsung is preloading lots of value-adding apps and services on its latest top-tier devices. First we saw those premium software packages on the latest Tab Pro and Note Pro slates and now the Galaxy S5 is getting an even better treatment.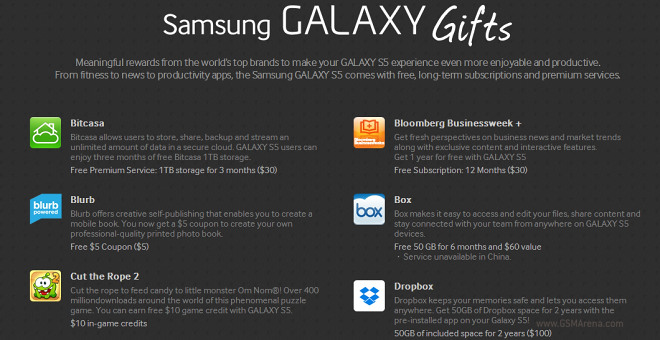 The apps and services every brand new Samsung Galaxy S5 is entitled to cost north of $600, but of course, chances are you wouldn't have purchased them all anyway so it's up to to judge how much they are worth to you.
So, Samsung is giving for free 1TB of Bitcasa storage for 3 months, 1 year Bloomberg Businessweek + subscription, 50GB of Box storage for 6 months, 50GB of Dropbox storage for 2 years, Evernote premium services for 3 months, LinkedIn Premium for 3 months, Skimble premium fitness services for 6 months, RunKeeper premium service for 1 year, Wall Street Journal subscription for 6 months, and even more.
You can check the full list of apps, services and subscriptions plus detailed explanations on the official Galaxy S5 website, Galaxy Gifts section.