The LG Xnote A510 laptop is crashing the 3D party and bringing some cool toys with it – the 15.6" laptop brings powerful hardware and "near Full HD" 3D experience. And don't worry if you don't have any 3D movies to watch – the TriDef software should be able to convert plain 2D content into 3D. Hmm…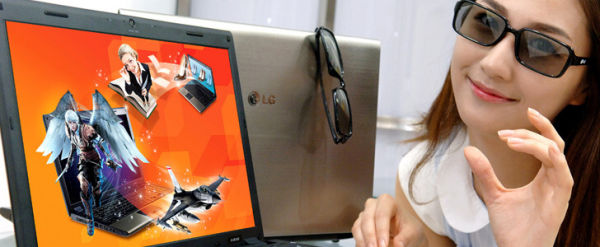 The LG Xnote XA510 is powered by an Intel Core i7 processor and an NVIDIA GeForce GT425M graphics card with 1GB DDR3 dedicated video memory. The LCD screen is 3D-enabled (glasses required) but what's the deal with this near Full HD? Well, the screen is Full HD, but the way polarized glasses work means that in 3D each eye sees only half of the resolution.
Anyway, the LG Xnote A510 comes with polarized glasses and clip on lenses for regular glasses in the box. The laptop also packs SRS TruSurround HD for an audio experience to match the immersive visual experience.
The pre-installed TriDef software is advertised as being capable to convert 2D content into 3D, remedying the current woe of 3D viewing – not enough content. But anyone who's seen post-converted movies knows how terrible they look – and an automatic post conversion? I have my doubts about the quality of that.
The LG Xnote A510 will be available in Asia, South America, the Middle East and Africa starting October 2010. It will come in blue-black and champagne gold colors with metallic look and LED-lit touchpad and a finger scanner too.
Here are the full specs:
Source: LG (Site in Korean), Akihabara News